Senior Course 127: European Perspectives Field Study - Berlin
09 Oct. 2015
|
Last updated: 09 Oct. 2015 09:26
The Senior Course 127 delegation reached its final stop of the European Perspectives Field Study as they arrived in Berlin on Wednesday evening.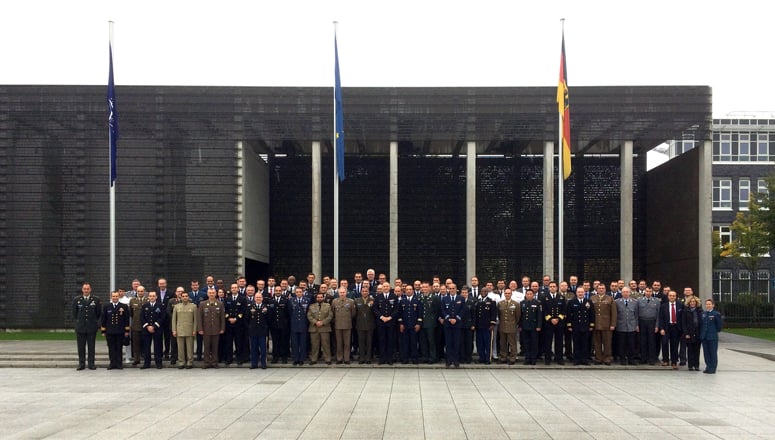 They began Thursday with a briefing from German Naval Captain Axel Deertz, Deputy Director Security Policy and Branch Chief Bilateral Relations. Captain Deertz began with a discussion of current conflict and security concerns across the globe. He discussed how the global security situation affects domestic policy in Germany and explained how Germany integrates its use of diplomatic and military instruments of national power. He spoke about Germany working to 'spend smarter' and find ways to work multilaterally in a more cost-effective way. Captain Deertz concluded by explaining the considerations, inputs, threats, and risks that will be addressed in the German Defense White Paper, to be completed in 2017.
The second briefing detailed the German commitment to multinational operations. Colonel (GS) Klaus Dieter Kohl, Chief of Branch (NATO, EU), Directorate General for Strategy and Operations, outlined the current German contributions to UN and EU missions. He demonstrated that Germany occupies a unique position at the geographic center of the NATO alliance. Course Members gained an understanding of the German commitment as Col Kohl walked them through his country's involvement in operations and training in Africa, Europe and Asia, as well as support to refugee relief.
Following a lunch hosted by the Chief of the Directorate – General for Strategy and Operations, BG Axel Georg Binder, the delegation visited the Bundeswehr Memorial and received a brief explaining its purpose and symbolism.
During the afternoon, the visit continued in the Parliament Quarter with a member of the German Parliament, Dr Ute Finckh-Kramer. Dr Finckh-Kramer is a member of the Foreign Affairs Committee and welcomed the delegation; she then fielded Course Members' questions, ranging from the refugee crisis and diplomatic efforts in Africa to multilateralism and potential future conflict. She gave Course Members additional insight into many varied topics, in addition to the conduct of business within the German Foreign Affairs Committee.
The visit concluded with a traditional Bavarian-style dinner at the Ministry of Defense Visitors' Mess, hosted by Dr Ralf Brauksiepe, Parliamentary State Secretary to the Minister of Defense and member of the Bundestag. Dr Brauksiepe offered opening remarks, and the delegation enjoyed the dinner and the excellent traditional music of the Bundeswehr Band. The evening was an enjoyable way to close a successful and productive Field Study.