NRCC-14 - Interreligious Dialogue day
14 Oct. 2015
|
Last updated: 03 Dec. 2015 12:13
On Monday 12 October 2015, the NATO Regional Cooperation Course (NRCC-14) examined the topic of interreligious dialogue, by hosting representatives from the three major monotheistic religions: Islam, Judaism and Christianity.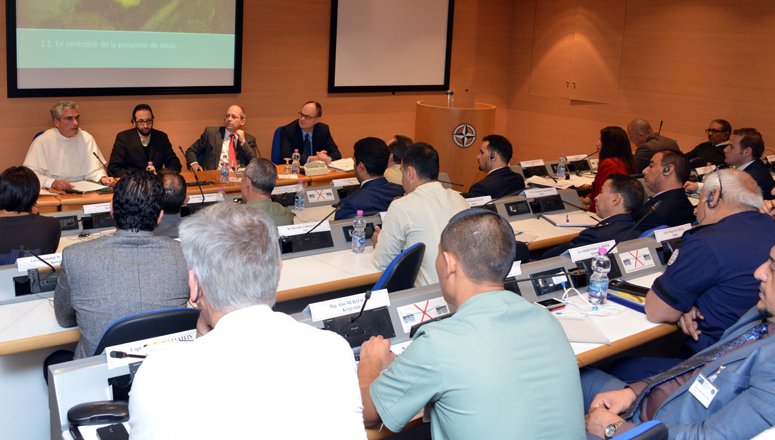 The distinguished guests, Dr Hillel Newman (ISR), Mr Cappabianca (DEU) and Mr Ghandour (MAR), were warmly welcomed by Colonel G. Morabito (ITA A), Head of the NDC's Middle East Faculty, and MEF Staff.
All three speakers provided a detailed introduction to the origins, development and main precepts of their respective religions, underlying similarities between the different faiths.
The first presentation was given by Dr Hillel Newman, a Counselor to the Israeli Ministry of Foreign Affairs (Jewish World Affairs, Interfaith and Strategic Divisions) and former Ambassador of the State of Israel to the Republics of Uzbekistan and Tajikistan. Dr Newman spoke about the origins and principal characteristics of Judaism, reviewing the Commandments and the values of his faith.
The second presentation was delivered by Mr Cappabianca, who gave an engaging and informative talk on the origins and main precepts of Christianity.
The lecture on Islam was by Mr Ghandour (MAR), who provided an extensive overview of the origins of his religion, as well as explanations of its founding concepts and beliefs.
Following the presentations, Course Members asked a number of challenging questions during the Q&A period, which gave them a unique opportunity to pursue a constructive and stimulating discussion, identifying the common values shared by all three religions.