The NDC participates in a conference on geopolitical security
29 Oct. 2015
|
Last updated: 03 Dec. 2015 12:13
As part of the ongoing Festival of Diplomacy (Festival della Diplomazia), on Wednesday 28 October 2015 the NATO Defense College participated in a conference at the National House of Representatives in Rome. This conference followed the two previous events within the Festival: on 26 October 2015, Dr Daria Daniels Skodnik, Dean of the NDC, addressed the LUISS Guido Carli University on the topic "Women, Peace and Security"; on 27 October 2015, NDC Research Fellow Dr Mehmet Can Kasapogl took part in the debate entitled "Migrants at Sea".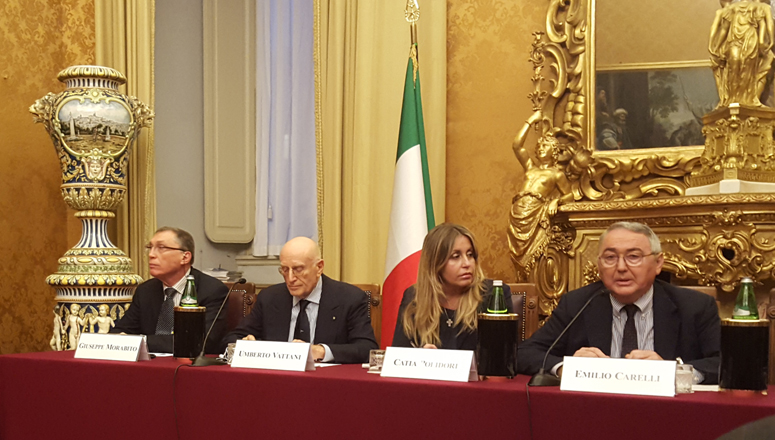 The title of the conference at the House of Representatives was "Current Issues and Scenarios Related to Geopolitical Security". It brought together a panel of distinguished speakers, made up of Dr Catia Polidori, Member of Parliament; Lt General Carlo Jean, President of the Centro Studi Geopolitica Economica; Dr Umberto Vattani, President of Venice International University; Dr Stefano Dambruoso, Commissioner of the Italian House of Representatives; Dr Adriano Soi, Prefect and Istitutional Communication Director (DIS); Colonel Giuseppe Morabito, NDC Middle East Faculty Director.
Colonel Morabito gave a very interesting presentation entitled "New intelligence and geopolitical security". He spoke about the emerging challenges for NATO intelligence. NATO not only aspires to guarantee the security of its member states (as stated in Article 5 of the North Atlantic Treaty), but has developed a cooperative approach to security. This comprises a network of structured partnerships with countries from the Euro-Atlantic area, the Mediterranean and the Gulf region, as well as individual relationships with other countries and organizations across the globe. Today, NATO engages with 41 countries as partners on defense and security-related issues, developing relations based on common values, mutual benefit and mutual respect. Partnership frameworks include the Euro-Atlantic Partnership Council, the Mediterranean Dialogue, the Istanbul Cooperation Initiative and Partners across the Globe.
A concept of increasing relevance is "hybrid warfare", which combines elements of irregular warfare, terrorism, conventional warfare and crime in the same battlespace. For this reason, NATO's newly created NATO Emerging Security Challenges Division (ESCD) deals with a growing range of non-traditional risks and challenges: terrorism, proliferation of Weapons of Mass Destruction, cyber defense, and energy security. The new Division also provides NATO with a strategic analysis capability to monitor and anticipate international developments that could affect Allied security, the rationale being that "if you don't understand your enemy's nightmares, if you cannot understand things from your enemy's point of view, he will surprise you. " In conclusion, "Intelligence deals with all the things which should be known in advance of initiating a course of action. Now we only share our intelligence when we are scared […] we have to change our culture of intelligence sharing […] to understand and develop indications and warnings so that we can see problems before they happen."