SC 127 Transatlantic Link Field Study - Belgium
05 Nov. 2015
|
Last updated: 05 Nov. 2015 11:41
On 2 November 2015, Senior Course 127 (SC 127) left NDC at the crack of dawn for its second Field Study, the so-called Transatlantic Link Field Study. After a detour via Paris and a bus trip to acclimatize to Field Study mode, SC 127 arrived in Brussels in the evening.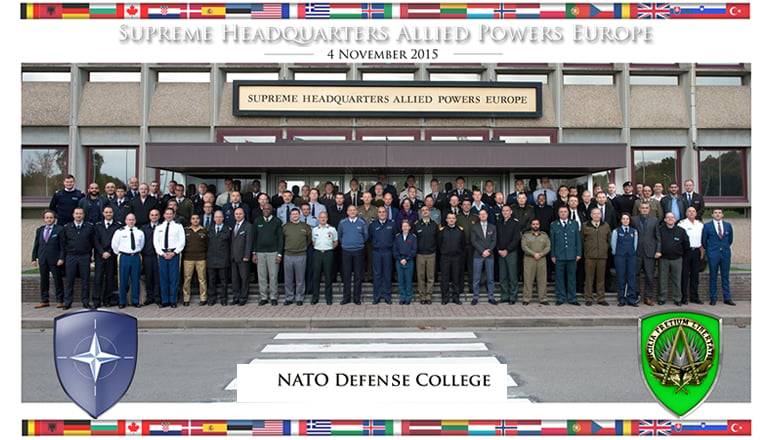 The first visit of the Field Study on 3 November went to the heart of the SC's focus, namely NATO headquarters. Deputy Chairman of the Military Committee Lieutenant General Mark O Schissler held the initial briefing, in which he spelled out a number of challenges facing NATO, covering all directions of the compass. He underlined that no challenge was more important than any other. After a frank Q&A session, Mr Andrew Budd from the Defence Policy and Planning Division gave a briefing on "Current Security Challenges for NATO". He pointed out, among other things, that there is currently no real appetite to change NATO's Strategic Concept. He also referred to the challenge of the fragmentation of defence in Europe. The next speaker was Mr Jonathan Hill from the Operations and Missions Section, who gave a talk on "Current Operational Challenges to NATO", in which the main focus was on the situation in Afghanistan. After this Mr Kestutis Paulaskas from the Defence Policy Section highlighted central topics "From Wales to Warsaw". He stressed that the Summit in Wales was a pivotal point in time for the Alliance. The main areas for the Warsaw Summit were now in the process of being deliberated. Amongst these were the three pillars of long-term adaptation, namely political, military and institutional. He underlined that NATO's consensus principle was both its strength and its vulnerability. The final intervention at NATO HQ was by Mr James Mackay, Head of Euro-Atlantic Integration and Partnership, on "NATO and Partnerships". His initial message was that NATO has to do more with partnerships. He pointed out that NATO would talk to any nation or regional organization that wished to engage in a dialogue with it. He underlined that NATO's added value for partners was its know-how, which it is willing to share with interested parties.
The most important news of the morning was, however, that SC 127 had a new honorary member. While Cdr Davide da Pozzo was busy listening to the briefings, his wife had given birth to their daughter, Giulia. The applause for the proud father was overwhelming.
After lunch, when Course Members had a chance to meet their national delegations, SC 127 headed for the EU, where the course was welcomed briefly by RADM Waldemar Gluszko, Deputy Director General EU Military Staff. The main message he left the SC with was that EU and NATO should cooperate more closely to put their capabilities to best use. He was followed by BG Heinz Kraub, Chief of the Concepts and Capability Directorate, who gave an overview of the many different forms of EU military operations, including how they are led. He also underlined the wish of the EU to cooperate more closely with NATO. Thereafter Mr Kari Loukkaanhuhta, Policy Officer Border Management, gave an overview of current civilian EU-led operations, with special reference to FRONTEX and the migration crisis. He referred to a belt of instability and the challenges involved. The last briefing was by Mr Olivier Dajic, Policy Officer EU-NATO Relations, on the status of EU-NATO relations. He assessed the cooperation as "vibrant" and pointed out that it had increased in the past years, for example through mutual participation at summits.
On 4 November SC 127 headed for SHAPE in Mons, the strategic-level HQ of Allied Command Operations. Here, the Senior Course was welcomed by LtGen Michel Yakovleff, Vice Chief of Staff. He later returned for a Q&A session, in which he highlighted that NATO was now working on graduated response planning, which would lead to a gap analysis and have an impact on Allies' capability planning. He further underlined the need for a return to basics, and for all future NATO exercises to operate in contested environments. He also pointed out that partners contributing to NATO-led operations helped to keep the Alliance on its toes by questioning it on why it did things in certain ways
The SC was also given a general brief on Allied Command Operations by LtCol Edith Guimont. This was followed by an in-depth brief on the "Comprehensive Crisis and Management Process", by Col Peter Alexa.