NRCC-14 – FIELD STUDY: BELGIUM
10 Nov. 2015
|
Last updated: 03 Dec. 2015 12:13
On Monday 9th November 2015, the NDC's fourteenth NATO Regional Cooperation Course (NRCC-14) and members of the NDC's Middle East Faculty (MEF) were in Brussels for the first stop of their Field Study. Led by MEF Director Col G. Morabito (ITA A), the group visited NATO Headquarters where Course Members were warmly welcomed and addressed by General Petr Pavel, Chairman of the Military Committee.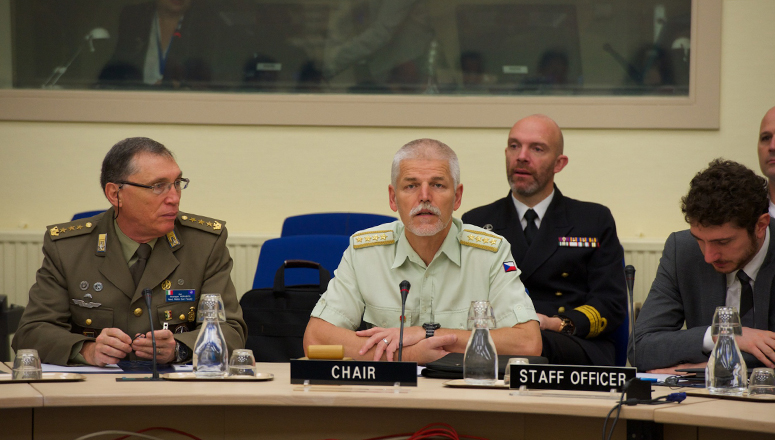 On the first morning, participants attended several institutional presentations and briefings on a number of issues, including: "NATO's Strategic Concept, the Mediterranean and the Middle East" by Ms Stephanie Siklossy (Political Officer, Middle East and North Africa Section, Political Affairs and Security Policy division); on "NATO's operations and its role in Crisis Management" by Mr Nick Williams (Head Afghanistan Operations Section, Operations Division); on "NATO's Relations with Russia" by Ms Radoslava Stefanova (Head, Russia and Ukraine Relations, Political Affairs and Security Policy Division); and on "NATO's Military Cooperation" by RAdm Emil Eftimov (Director, Cooperation and Regional Security Division, NATO International Military Staff).
The delegation also had a meeting and a discussion with H.E. Mehmet Fatih Ceylan and H.E. Luís de Almeida Sampaio, Permanent Representatives of Turkey and Portugal respectively, to the North Atlantic Council, and with Mr Massimo Ambrosetti, Deputy Permanent Representative of Italy to the North Atlantic Council.
The next day, Course Members spent time at the Supreme Headquarters Allied Powers Europe (SHAPE), the Headquarters of Allied Command Operations (ACO), one of NATO's two strategic military commands, located in Casteau, north of the Belgian city of Mons.
Here, the group received welcoming remarks from Captain Boris Katicin (HRV N), Director of the Development and Implementation Division, Military Partnership Directorate, and a general briefing by LtCol Ionicã Dascãlu (ROU A), from the Strategic Planning Division.
The delegation also heard a presentation on the "Comprehensive Crisis and Management Process" , given by Col Dirk Brodersen (DEU A), Deputy Director Comprehensive Crisis and Operations Management Center (CCOM), which was followed by a challenging Q&A period.
The visit to Brussels and Mons gave participants a unique opportunity to better understand how NATO works and the challenges it faces.