The NDC visits the European Space Research Institute (ESRIN)
23 Nov. 2015
|
Last updated: 03 Dec. 2015 12:13
On Friday 20th November, the NDC's Senior Course 127 (SC 127) and the fourteenth NATO Regional Cooperation Course (NRCC-14) were hosted at the European Space Research Institute (ESRIN), in Frascati (Rome).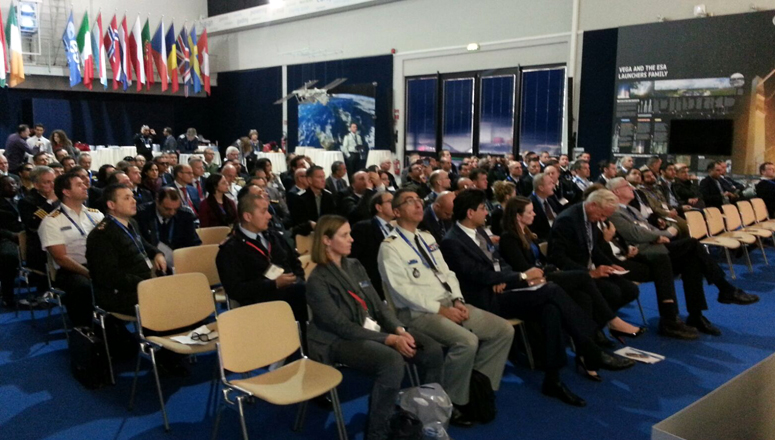 ESRIN, known as the European Space Agency (ESA) Centre for Earth Observation, is one of the five ESA specialized centres in Europe. It was established in 1966, began acquiring data from environmental satellites in the 1970s and, since 2004, has been the headquarters for ESA's Earth Observation activities. In cooperation with other space agencies, it also manages the acquisition, distribution and exploitation of data from non-ESA satellites. The world's largest database of environmental data for both Europe and Africa is managed from ESRIN. Earth observation data has grown in importance as more and more international and national agencies recognize its many uses. Satellites for Earth observation keep a constant watch over the Earth and the data they provide helps to safeguard the world in which we live.
The NDC delegation, led by BrigGen Heinz-Josef Feldmann (DEU A), Head of the NDC Academic Planning and Policy Division, and Col G. Morabito (ITA A), NDC Middle East Faculty Director, was received and warmly welcomed by Dr Volker Liebig, Head of ESRIN and Director of Earth Observation Programmes.
The delegation's first address was delivered by Dr Josef Aschbacher, Head of the Programme Planning Coordination Service, Directorate of Earth Observation Programmes, who gave a general overview on the "Copernicus Programme".
The morning programme continued with presentations and briefings by a number of distinguished speakers: Mr Thomas Beer (Copernicus Policy Coordinator, Directorate of Earth Observation Programmes) spoke about "Copernicus and Security"; Mr Jolyon Martin (Ground Segment and Mission Operations Department, Directorate of Earth Observation Programmes) gave a presentation on "Data Access"; Mr Gordon Campbell (Science Applications and Future Technology Department, Directorate of Earth Observation Programmes) briefed the group on "Maritime Security".
Laryssa Patten, Senior Scientist, NATO Communications and Information Agency (NCIA), then gave an interesting lecture entitled "Space and its significance for defence and security".
Course Members afterwards enjoyed a quality panel discussion and question and answer session, covering the full range of topics discussed throughout the presentations.
Finally, Mr Marco Castelli, Launcher System Studies Engineer, Directorate of Launchers, gave an unusual 3D presentation on the "Vega Launcher".