Seventh Edition of the Middle East Faculty Academic Advisory Board
04 Dec. 2015
|
Last updated: 04 Dec. 2015 13:02
On Thursday 3 December 2015, the NATO Defense College (NDC) in Rome hosted the Academic Advisory Board (MEF AAB) of the Middle East Faculty (MEF) for its seventh annual meeting.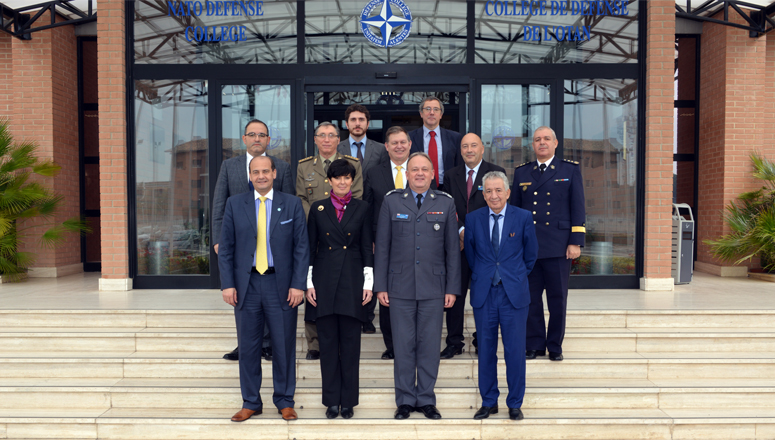 The meeting was attended by NDC Commandant MGen Janusz Bojarski (POL F), Dean Dr Daria Daniels Skodnik (SVN C) and MEF Director Col Morabito Giuseppe (ITA A), together with distinguished AAB members and guests: the Ambassador of Tunisia to Belgium, H.E Cherif Taher; Ambassador Dr. Sameh AboulEnein (EGY); H.E Counselor Abdelhakim Ammauche from Algeria; Dr Alberto Bin (ITA, NATO/HQ); former NDC Dean Dr Richard D. Hooker (USA); Dr Jean-Loup Samaan (FRA C, FA/MEF); Colonel Kees Marselis (NLD F, MA to the CMDT); and Commander Henriques Jose (PRT, NATO HQ/IMS).
Welcome remarks were given by the Commandant, after which the Dean spoke about the progress made on previous AAB recommendations.
The purpose of this year's AAB was to discuss recent outreach and research activities, examine options for future field studies and, above all, to focus on ways of enhancing cooperation between the NATO Regional Cooperation Course (NRCC) and the Senior Course (SC), as well as promoting closer links with Course Members' national authorities.
Having an advisory forum of this calibre is extremely important: a constant evaluation procedure helps ensure not only that the MEF provides an eminently relevant academic framework for close links with similar organizations in MD and ICI countries, but also that voluntary contributions to the MEF are appropriately encouraged and coordinated.