SC 127 Regional Approaches, PfP & ICI Field Study - Turkey
14 Dec. 2015
|
Last updated: 15 Dec. 2015 11:28
Senior Course 127 arrived in Istanbul late on the evening of Thursday 10 December, but all Course Members were ready on Friday morning to follow the programme prepared for them by the Turkish authorities.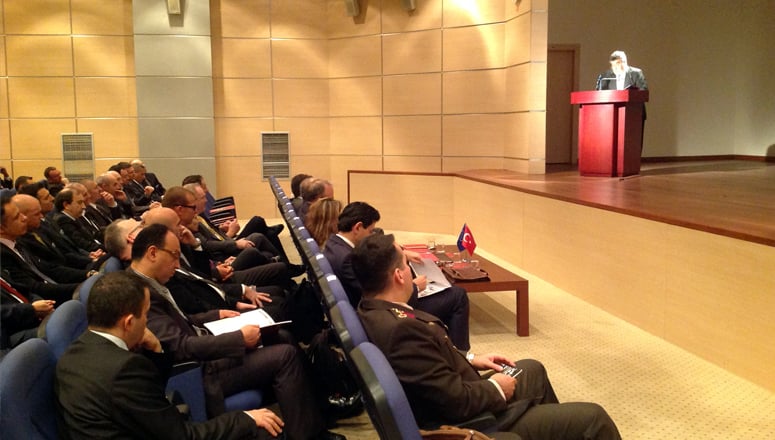 The morning was spent on the premises of the Turkish War Colleges, where the group was hosted by Lieutenant General Tahir Bekiroglu. Course Members were first given a short presentation on all the activities of this facility, which comprises the War Colleges of the three Services, a Research Centre and support elements such as an Information Centre and a Doctrine and Training Centre.
SC 127 then received two briefings. The first, on Turkey's contribution to regional and global security, was an opportunity for Colonel Ufuk Göksen to underline Turkey's extensive contribution not only to NATO operations, but also to training and education for Allies and Partners. In this respect, an important role is played by the PfP Training Centre in Ankara and the recently created Multinational Military Flight Crew Training Centre (MMFCT-C).
Ambassador Kenan Ipek then gave a talk on Turkey's foreign policy. Though a long discussion period had been scheduled, Course Members had so many questions that the session was extended for an additional 15 minutes.
This briefing was followed by a short visit to the Multinational Joint Warfare Centre, inaugurated in March 2015, after which lunch was hosted by Lieutenant General Tahir Bekiroglu.
The afternoon's programme comprised a visit to the Military Museum. This gave SC 127 a chance to attend a performance by the Mehter military band, the oldest in the world, playing traditional Ottoman instruments and wearing historical uniforms of the Ottoman period.
Course Members were able to conclude an intense, very informative day by appreciating the unique beauty and atmosphere of the Bosphorus, where the historical cultures of Asia and Europe come almost literally within touching distance of each other. Concluding the visit by spending time together in these surroundings afforded a particularly appropriate opportunity to further promote the group's excellent cohesion.