Visit from the Jackson School of International Studies, University of Washington
16 Feb. 2016
|
Last updated: 16 Feb. 2016 15:52
On Tuesday 16 February 2016, the NATO Defense College (NDC) was honoured to host a delegation from the Jackson School of International Studies, University of Washington (Seattle, WA). The delegation was led by Col (ret.) Frederick Lorenz, senior lecturer at the Jackson School of International Studies, and accompanied by NATO Senior Assistant Legal Adviser Ms Lone Kjelgaard. Among the twenty-five students in the group were participants from China, Ethiopia, Libya, Mongolia, Spain and Ukraine.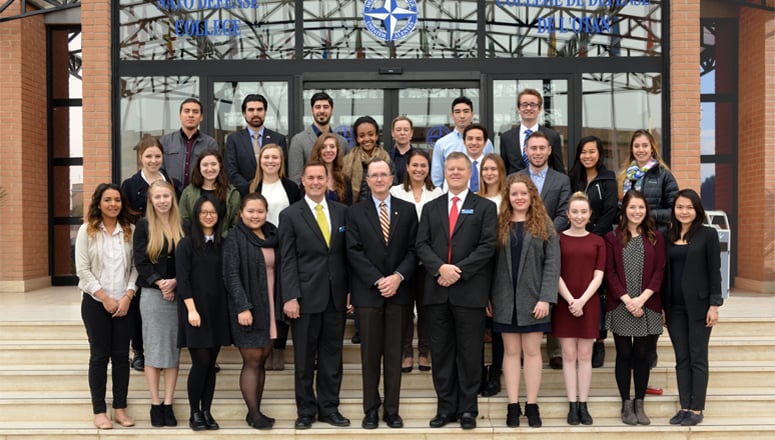 The aim of the visit was to give the visitors an overview of NDC activities and an introduction to current NATO priorities, as part of their course module on "The New European Security".
The group was warmly welcomed by Colonel James Huber (USA A), US Senior National Representative at the NDC.
A detailed briefing on the College and Research Division activities was given by Dr Jeffrey Larsen (USA C), Head Research Division. Following this, Dr Larsen spoke about "NATO and the Warsaw Summit". Dr Guillaume Lasconjarias (FRA C), Research Advisor, then gave a lecture on "NATO and A2/AD". These presentations were followed by challenging Q&A sessions.
During the course of the visit, the delegation gained first-hand insight into the College's unique contribution to strategic-level education and research for NATO and its Partners.