Inauguration of the fifteenth NATO Regional Cooperation Course (NRCC-15)
22 Feb. 2016
|
Last updated: 23 Feb. 2016 13:51
On Monday 22 February 2016, the NATO Defense College had the pleasure of hosting the Inauguration of the fifteenth NATO Regional Cooperation Course (NRCC-15).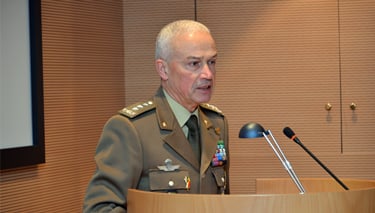 This ten-week strategic-level course is offered twice each year to promote closer dialogue, understanding and educational cooperation with the Middle East and North Africa.
The NRCC, created in 2009 and directed by the Head of the Middle East Faculty, Col Giuseppe Morabito (ITA A), is the NDC's major educational outreach programme. This year, the course takes place from Monday 22 February to Friday 28 April and brings together 37 participants from 16 countries, including 11 Course Members from NATO nations, 17 from the Mediterranean Dialogue (MD) and two from the Istanbul Cooperation Initiative (ICI), as well as six from Global Partners.
The course is designed to inform and stimulate participants' thinking, providing the opportunity to improve understanding of the geopolitical importance of certain selected regions and key political, military, social and economic trends within them as well as, if appropriate, possible roles for NATO in responding to threats and challenges there.
During the morning, NDC Dean Dr Daria Daniels Skodnik (SVN C) and Col Morabito, together with MEF staff, welcomed Course Members in the Ismay Auditorium.
In the afternoon, the opening ceremony in the Ismay Room began with a welcome address by NDC Commandant MGen Janusz Bojarski (POL F).
The event was honoured by the presence of the Commander of Italian Army Training & Doctrine, and former ISAF Chief of Staff, LtGen Giorgio Battisti (ITA A), who delivered a lecture entitled "Military Education and Development: NATO doctrine and training as a means to enhance partnership and cooperation in a multinational environment".
With this inaugural lecture, NRCC-15 participants embarked on what will prove to be an intense educational experience, including a range of different activities (lectures, conferences, workshops and field studies).
The College extends a warm welcome to all NRCC participants and wishes them every success in gaining the most from this unique opportunity to learn, exchange views and build lifelong bonds of friendship.