NRCC 15 Field Study: Washington D.C.
18 Mar. 2016
|
Last updated: 16 Mar. 2016 14:36
On Thursday 17 March the fifteenth NATO Regional Cooperation Course (NRCC 15), accompanied by NDC Middle East Faculty Director Col Giuseppe Morabito, was hosted by the Institute for National Strategic Studies (INSS) in Washington D.C. This was the first ever visit to the US by an NRCC group.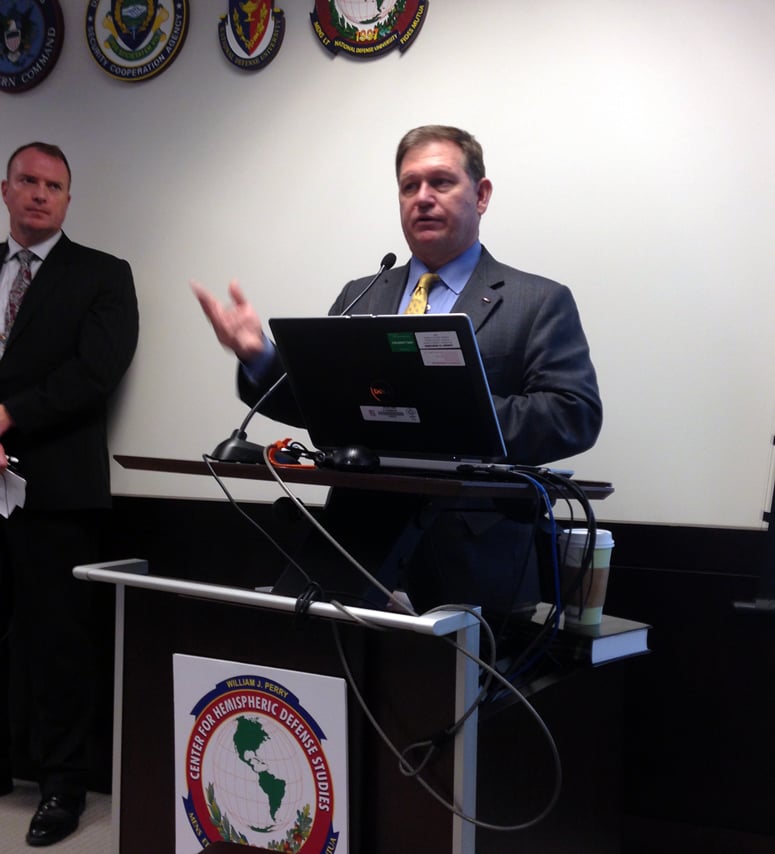 The presentations were made by experts from INSS and the National Defense University, as well as by an official from the Joint Staff at the Pentagon and a scholar from a leading US think tank.
The opening remarks were delivered by Dr Richard D. Hooker, Director of INSS and former NDC Dean. Col Richard Outzen, Senior Military Fellow at INSS, then gave an interesting and very informative presentation on the National Defense University.
Afterwards, INSS Distinguished Research Fellow Dr T.X. Hammes and Senior Research Fellow Dr Frank Hoffman provided insight into how US strategic thinkers see the evolving global context for strategy and policy-making. Both addressed not only regional but also global forces, and the impact of technology on US national security.
The second panel, composed of Distinguished Research Fellow Dr Christopher Lamb and Dr Hooker, examined the processes and norms of US policy-making and strategy development, or 'how we do business' in directing national security activities. The speakers also assessed the structural strengths and weaknesses of the US policy- and strategy-making systems.
After a working lunch with Mr Richard Jackson of Joint Staff, the afternoon session began with a US assessment of strategic trends in the Middle East and South Asia. The speakers were Col Outzen and Dr Hassan Abbas, Professor of International Security Studies and Chair of the Department of Regional and Analytical Studies at the College of International Security Affairs. Particular attention was given to the Israeli-Palestinian conflict, Iran and the nuclear deal, Afghanistan, Turkey and the Kurds.
An outstanding talk was then given by General (ret.) John R. Allen, Co-Director of the Center for 21st Century Security and Intelligence at the Brooking Insitution. He discussed regional and international terrorism, including the campaign against ISIL in Syria and Iraq. Emerging trends in global jihadist threats were also examined.
All the panels were followed by lively Q&A sessions, during which Course Members posed many challenging questions that were answered very frankly.
The Field Study to the US, which finished with a visit to the Smithsonian Air and Space Museum, was a unique opportunity to better understand US foreign and defence policies, as well as emerging trends in strategy and war.