SC 128 Field Study: Berlin
21 Mar. 2016
|
Last updated: 21 Mar. 2016 11:11
On the evening of Tuesday 15 March 2016, following the 'Italian Day' in Rome, Senior Course 128, accompanied by the NDC Director of Academic Operations MGen Pascal Valentin, arrived in Berlin, as part of their first Field Study.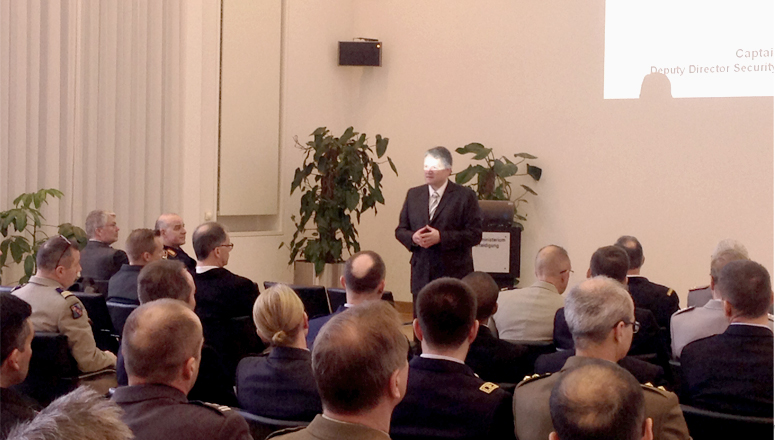 The following morning, the NDC delegation visited the German Federal Ministry of Defence, where they were warmly welcomed by Dr Ruediger Huth, Deputy Political Director at the MOD. There then followed two interesting briefings: Captain Axel Deertz, Deputy Director for Security Policy, presented an overview of German security and defence policy in the current complex global context, while Captain Christoph Beer, from the Directorate General for Strategy and Operations, focused on Germany's commitment and contribution to multinational operations under the UN, NATO and the EU. The briefings, along with informative and insightful Q&A sessions immediately afterwards, contributed greatly to Course Members' understanding of Germany's security and defence priorities, one of the main goals of their Field Studies.
In the afternoon, the NDC group visited the Parliament, where they met parliamentarians Mr Peter Beyer (CDU/CSU), Dr Ute Finckh-Kraemer (SPD) and Mr Karl-Georg Wellmann (CDU/CSU), all members of the Foreign Affairs Committee, who briefed them on foreign policy issues. The open and frank discussion with the three members of Parliament gave a comprehensive picture of Germany's position on a wide range of contemporary security challenges.
Later in the day, the NDC delegation had the privilege to attend the Grand Tattoo (Groesser Zapfenstreich) farewell ceremony for the retirement of General Hans-Lothar Domroese, Commander of the Allied Joint Command in Brunssum, in the presence of the Minister of Defence, Dr Ursula Von Der Leyen. This traditional ceremony is performed by the German Armed Forces, by official protocol, only on special occasions. By torchlight and to the sound of the military band drums and pipes, the Berlin leg of Field Study 1 was concluded in the most spectacular way!