SC 128 - First Field Study: Paris
23 Mar. 2016
|
Last updated: 21 Mar. 2016 11:11
Senior Course 128's first Field Study continued in Paris. Course Members arrived at the French capital late in the afternoon on Sunday 20 March. The following morning the NDC delegation, headed by the Commandant Major General Janusz Bojarski, was hosted at the historical complex of the Hotel des Invalides for a series of briefings by representatives of the French Ministries of Defence and Foreign Affairs.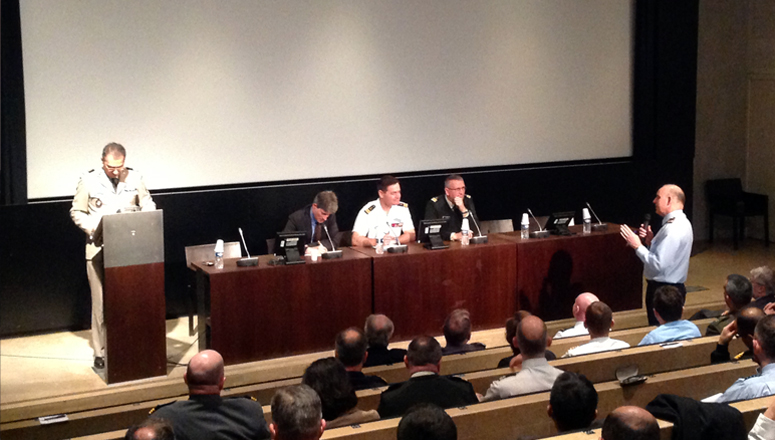 Brigadier General Clament, Head of the Regional Issues Department at the Directorate General for International Relations and Strategy of the French MOD, welcomed the delegation and underlined the important role of the NATO Defense College in fostering mutual understanding and cooperation. He set the stage by giving a short overview of the new threats and risks in the globalized international environment, which, as he pointed out, require a more active, flexible and coordinated response.
His address was followed by three separate presentations, all complemented by productive and insightful question and answer sessions, which gave Course Members the opportunity to further enhance their understanding of French foreign and security policy.
Mr Landour, Director of the MOD Department of Europe, North America and Multilateral Affairs, analysed France's relations with NATO, explaining the historical background and the country's position on both the current and future role of the Alliance. Colonel Mouret, from the Command Operations Centre, focused on the country's commitment to ongoing operations, while Mr De Gonneville, Deputy Director for Strategic Affairs at the MFA, spoke about the importance of multilateralism and international organizations in France's foreign policy.
After the end of the official presentations, Course Members had the privilege of spending time at the Military Museum within the Invalides building. This is one of the most interesting museums in Paris, which houses, among others, Napoleon's tomb. It was the perfect way to finish the day, connecting France's present with its rich history.