SC 128 - First Field Study: Rabat
29 Mar. 2016
|
Last updated: 29 Mar. 2016 09:40
On the afternoon of Tuesday 22 March 2016, SC 128 arrived in Rabat, the capital of Morocco and the last stop in their first Field Study. Morocco is one of the 7 countries of the Mediterranean region which participate in NATO's Mediterranean Dialogue (the other six are Algeria, Egypt, Israel, Jordan, Mauritania and Tunisia), initiated in 1994, with the aim of promoting regional security and stability and fostering better mutual understanding.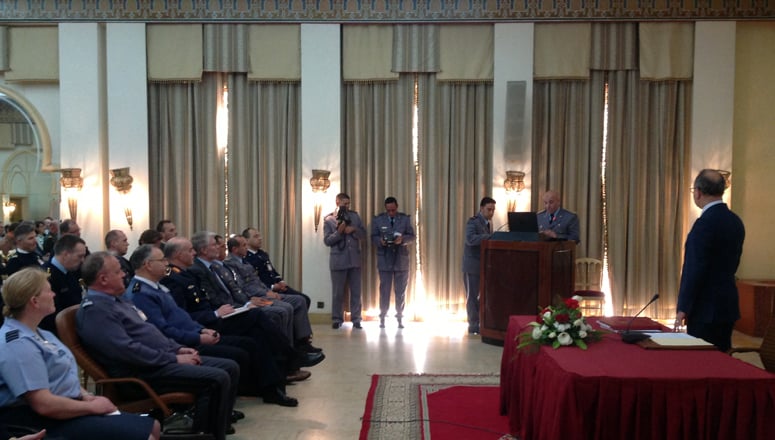 The following morning, the NDC delegation, headed by the Commandant Major General Janusz Bojarski, attended a series of briefings on Moroccan foreign policy and the country's relations with NATO, as well as on Morocco's longstanding contribution to international peacekeeping operations.
Mr Nabil Adghoghi, General Director for Bilateral Relations at the Ministry of Foreign Affairs and Cooperation, analyzed the four main pillars of Morocco's foreign policy (African, Euro-Mediterranean, Arab and Trans-Atlantic), stressing that the country is determined to remain a credible and reliable NATO partner within the framework of the Mediterranean Dialogue.
Colonel Mohamed Elkassy from the General Defence Staff focused on the long tradition of the Moroccan Armed Forces' participation to peacekeeping operations of the UN, the EU and NATO.
Both presentations, together with the ensuing question and answer periods, helped Course Members to further consolidate and enhance their understanding of Morocco's foreign and security policy and the important contribution made by the country to international crisis management efforts.
Later in the afternoon, the NDC delegation visited the Royal College of High Military Studies (Collège Royal de l' Enseignement Militaire Supérieur - CREMS), which is the higher military education institution of the Moroccan Royal Armed Forces and is situated in Kenitra, about 40 km north of Rabat. There they had the opportunity to be briefed on the structure and work of the CREMS in the areas of military training and research studies.
Morocco was the final visit of Field Study 1. Senior Course 128 returned to Rome, where, after a short Easter break, they will continue their daily academic programme, full of precious memories and with a much better knowledge and appreciation of the countries visited.