A group from the Hungarian General Staff Course visits the NDC
19 Apr. 2016
|
Last updated: 10 Dec. 2018 14:23
On Wednesday 19th April 2016, a delegation from the Hungarian General Staff Course, led by General (ret) Dr Szenes Zoltán, visited the NATO Defense College.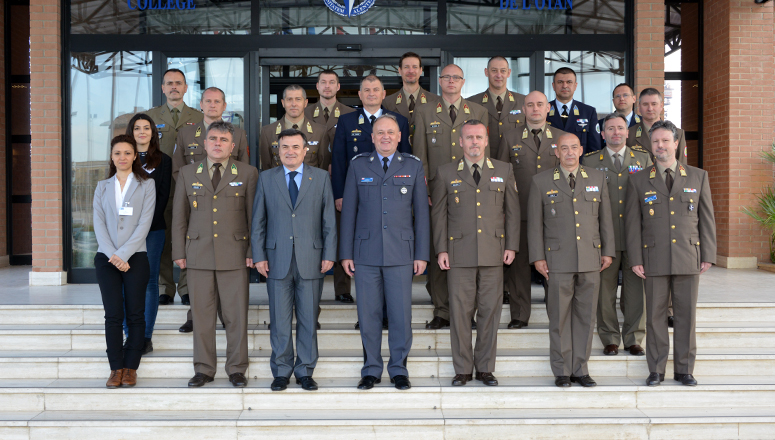 Upon arrival, the delegation was greeted by NDC Commandant Major General Janusz Bojarski (POL F) and Faculty Advisor Colonel Szabolcs Peter Till (HUN A), who briefed the visitors on NDC activities and courses.
Later, the delegation joined Senior Course 128 in the Maynard-Thorn Hall for a lecture on NATO Strategic Guidance by Mr Michael Rühle (DEU C).
The Hungarian General Staff Training Course 1, as the highest level of National Military Education, offers an 11-month resident program. The curriculum prepares selected military leaders (resident, foreign) for the responsibilities of strategic leadership and educates them on the development and employment of strategic power. Upon graduation our students will be prepared for leadership positions in the national strategic environment, or as advisors to the senior leadership of the Ministry of Defence, other government agencies, or in foreign militaries. In the academic year of 2012/2013 4 foreign students (German, Italian, Chinese and Russian) took part on the Course, and in the academic year of 2013/2014 year a further Chinese student took their place on the Course.


1 Source http://en.uni-nke.hu/nups/faculties/military-sciences-and-officer-training-faculty/structure/military-general-staff-training-centre