Research Division outreach to aspirant NATO member Montenegro
27 Apr. 2016
|
Last updated: 10 Dec. 2018 14:23
On 22 April 2016, Dr Brooke Smith-Windsor of the NDC Research Division was invited by the Chief of the General Staff of the Armed Forces of Montenegro - Admiral Dragan Samardzic - and the Head of the NATO and EU Department at the Ministry of Defense - Mrs Alma Adrovic - to address senior officers and officials on the development of Montenegro's maritime strategy in the context of the country's ongoing preparations for NATO membership.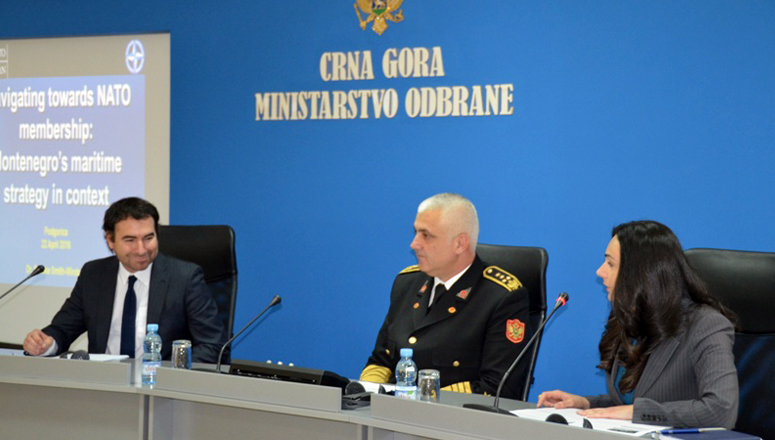 The lecture and ensuing question and answer period covered a wide range of subjects spanning: the fundamentals of strategy and sea power; the evolving cyber-electromagnetic operational environment; and the constabulary, military and diplomatic roles of the Montenegrin navy in contributing to the security of the Adriatic Sea and the wider maritime commons (high seas). Throughout, Dr Smith-Windsor stressed how even a small aspirant member state like Montenegro may, if committed to the rule of law at sea, leverage its position on a key European waterway to contribute to the implementation of the aims and objectives of the 2011 Alliance Maritime Strategy.
The visit to the Ministry of Defense followed a similar engagement the day before with undergraduate students of the Faculties of Law and Political Science at the University of Montenegro, the country's largest public institution of higher education. There, Dr Smith-Windsor explained NATO's evolution since the Cold War as a global crisis management actor, the responsibilities and benefits of Alliance membership in continuing to defend democratic Europe, as well as career prospects for aspiring diplomats, officers and international lawyers interested in transatlantic affairs.
The NDC Research Division serves as a key forum for discussion and objective analysis of contemporary NATO policy challenges, as well as a central pillar of the College's outreach activities.