NRCC-15 Graduation Ceremony
29 Apr. 2016
|
Last updated: 29 Apr. 2016 15:27
On 29 April 2016, the NATO Defense College (NDC) held the graduation ceremony of the 15th NATO Regional Cooperation Course (NRCC-15).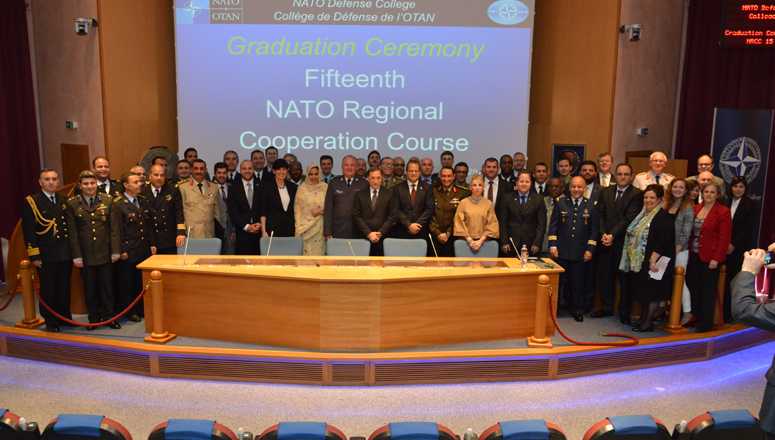 Upon his arrival, the Italian Undersecretary for Defence Domenico Rossi was greeted by NDC Commandant MGen Janusz Bojarski (POL F), as well as by the Dean Dr Daria Daniels Skodnik (SVN C), the Director of Management BrigGen Salvatore Carta (ITA A) and Col Giuseppe Morabito (ITA A), Head of the NDC Middle East Faculty (MEF). After a private meeting in the Commandant's office and the signing of the Guest Book, the group moved to the Main Auditorium for the start of the graduation ceremony.
MGen Bojarski gave his opening speech and shared remarks on the importance of the NRCC course, laying emphasis on its unique features in establishing and strengthening mutual understanding and cooperation between NATO and Partner countries.
Undersecretary Rossi then spoke about "Italy and the challenge of ensuring Mediterranean Security". He underlined the radical transformation taking place in the Middle East and North Africa, and then pointed at three necessities to overcome the crisis in the Mediterranean and terrorism: shared security in a region where countries are linked by critical ties, supported by shared resources for a strong and common purpose; a defence structure devoid of physical or other barriers that might divide countries, peoples and cultures; and finally, regaining a shared culture which is the unifying characteristic of Mediterranean countries.
The Course Members then received their diplomas and officially became graduates of the 15th edition of the NATO Regional Cooperation Course.
This year, NRCC-15 brought together 35 participants from 14 countries to work on some of the most important contemporary issues, such as the threats and challenges posed by the Middle East and the Syrian civil war. Understanding was reached on numerous other fundamental topics, for instance, the significance of economics for security; NATO and EU policies; and the functioning of the international courts.
The NRCC is the Alliance's major educational outreach exercise for Mediterranean Dialogue (MD) and Istanbul Cooperation Initiative (ICI) countries and Partners from the broader Middle East. Since its inception in direct response to the decision taken by Alliance Heads of State and Government at the Riga Summit in 2006, the NRCC has been promoting closer dialogue and intensified cooperation in the field of education.