Visit by the Baltic Defence College JCGSC
13 May. 2016
|
Last updated: 10 Dec. 2018 14:23
On 12th May 2016, the NATO Defense College (NDC) had the honour of welcoming the Baltic Defence College Joint Command and General Staff Course (JCGSC).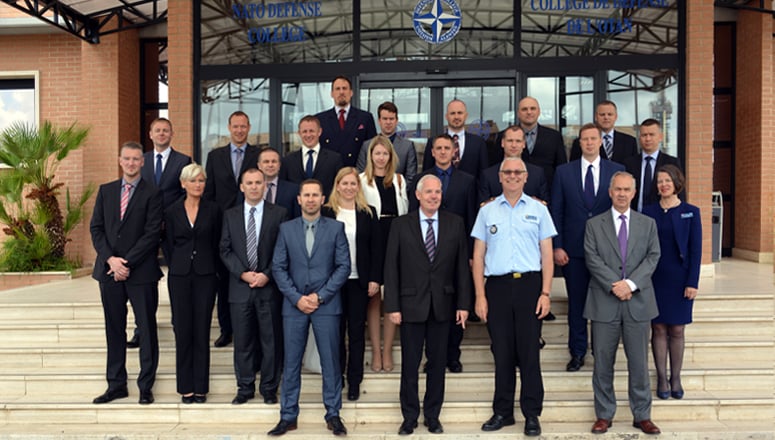 For the visitors, the aim was to obtain a general overview of the NDC's activities. The delegation, headed by the Deputy Commandant/Chief of Staff of the Baltic Defence College Colonel Axel Pfaffenroth (DEU), was greeted by the Head of the Academic Planning and Policy Division Brigadier General Heinz Josef Feldmann (DEU A), Colonel Ovidijus Eitminavicius (LTU A) and Mrs Annette Hurum (NOR C). They then moved to the Maynard-Thorn Hall, to attend the morning's scheduled lecture together with the current Generals, Flag Officers and Ambassadors' Course (GFOAC 2016-1). This was given by Prof. Holger Mey (DEU), who spoke about "Technological Development: Risks and Opportunities".
After the lecture, the visitors were briefed on the College by Colonel Eitminavicius and Mrs Hurum, who also gave the concluding remarks after the Q&A session.
During the visit, the delegation gained insights into the NDC's contribution to strategic-level education and the growing importance given to cooperation between NATO and its Partners.