Visit of the President of the Republic of Poland
First official act of the NDC's double anniversary
18 May. 2016
|
Last updated: 10 Dec. 2018 14:23
In October 2016, the NATO Defense College will be celebrating both the 50th anniversary of its historic relocation to Rome and the 65th anniversary of its foundation.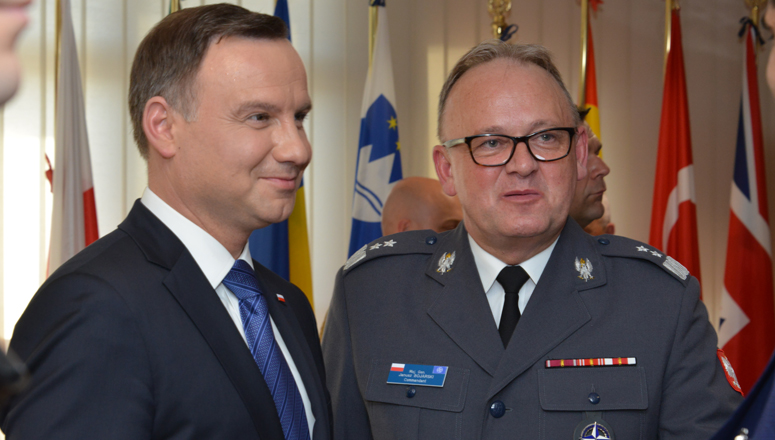 Since its inauguration by General Dwight D. Eisenhower on 25th June 1951 in Paris, the NDC has been a flagship in the field of education and research. Following France's withdrawal from NATO's integrated military command structure in 1966 under President Charles de Gaulle, the College moved to Rome, where it continued its work of educating Alliance leaders, both military and civilian, while conducting academic study and research.
To celebrate this year's milestone anniversaries, NATO Secretary General Jens Stoltenberg, Italian authorities and other prominent personalities will convene in Rome on 13th and 14th October. The celebrations will start on 13th October, with a flag raising ceremony and the unveiling of a commemorative plaque. Celebrations will continue on 14th October, when the annual Anciens' meeting will be held in the presence of high-ranking guests. The Anciens' Conference and Seminar, entitled "NATO and its Partners: Strengthening ties to address contemporary security challenges", will have a particular significance, being held in conjunction with the double celebration. For this reason a large number of former Course Members are expected to participate.
The NDC is currently preparing for this great event and, with the prospect of the main celebrations in October, a celebratory video will soon be released, identifying highlights in the NDC's history since its relocation to Rome.
In spite of its 65 years, the NDC still plays a significant role for the Allies: shaping the value-based security culture that NATO stands for and representing for its members an investment in national security, collective defence and international stability. Over the years, some 7,000 senior officers, diplomats and officials have passed through the College, creating an international network which promotes NATO's founding goals and principles.
As the first official act of the celebrations for the NDC's double anniversary, on 17th May, the President of the Republic of Poland Andrzej Duda was welcomed to the College by NDC Commandant General Janusz Bojarski. During his visit, President Andrzej Duda gave a speech to distinguished guests, Course Members of SC128 and other participants. The President focused on the expectations placed on the summit of Warsaw, stressing that "a credible deterrence is only possible through the increase of military spending in the Alliance" before answering questions.
More information on the NDC double anniversary will be available before the summer break.