Senior Course 128 'Regional Approaches and PfP' Field Study: the Former Yugoslav Republic of Macedonia*

* Turkey recognizes the Republic of Macedonia with its constitutional name.
14 Jun. 2016
|
Last updated: 23 Jun. 2016 13:42
The NATO Defense College organizes Field Studies to provide its Course Members with first-hand knowledge of security policies, structures, the workings and functions of national defence establishments, governments and international organizations, by meeting national, regional, and global decision-makers in their respective capitals and headquarters. Field Studies are an integral part of the Senior Course academic programme.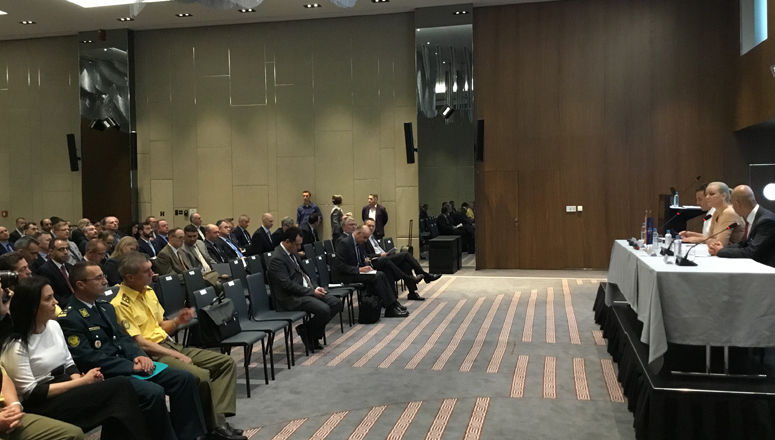 Senior Course 128's third Field Study started with a visit to the Former Yugoslav Republic of Macedonia* . On 14 June 2016, State Secretary of the Ministry of Defence Ms Elizabeta Chuposvka Ristova welcomed the Senior Course with a briefing, during which she underlined that her country is NATO's longtime partner. She further explained the contributions of the Former Yugoslav Republic of Macedonia to international operations, as well as the comprehensive reform process to respond to new challenges. State Secretary Ristova strongly underlined the Former Yugoslav Republic of Macedonia's aspiration to become a member of the Euro-Atlantic family.
The delegation received a detailed presentation from Colonel Zlate Stojanovski from the Ministry of Defence, on the country's strategic defence missions, goals, and priorities framework. He focused on the development of national defence system capabilities, as well as the improvement of mechanisms for the democratic and civilian control of the army. He further elaborated on the reform process in accordance with the country's NATO and EU membership goals, and the long-term defence development plan 2014-2023, in particular. He indicated that the Annual National Programme (2015-2016) in preparation for NATO membership is well underway.
The group heard another briefing by Colonel Sasho Kocevski, the representative of the Joint Staff, who explained in detail the country's contributions to operations and achievements, such as having a pool of trained personnel, increased capabilities and interoperability. He stressed that his country is committed to continue its contributions to international peace support operations, together with partners.
The group had a final briefing from Ms Vilma Petkovska, from the Ministry of Foreign Affairs. She analysed current risks and challenges in the region and beyond, explaining her country's views on the upcoming NATO Warsaw Summit meeting, and enlargement in particular. Underlining the importance of NATO's cooperative security efforts and open door policy for partners, Ms Petkovska emphasized the Former Yugoslav Republic of Macedonia's continued efforts in the promotion of shared values in the region and beyond.
Brigadier General Salvatore Carta, Head of the NDC Delegation, thanked the host country authorities for the warm hospitality extended to the Senior Course during their stay in Skopje.