Lecture of Opportunity by the Georgian Minister of Defence
05 Jul. 2016
|
Last updated: 05 Jul. 2016 12:06
On 1st July 2016, the Georgian Minister of Defence, H.E. Tinatin Khidasheli, visited the NATO Defense College. The aim of the visit was to deliver a Lecture to Senior Course 128 and strengthen the relationship between Georgia and NATO. She was accompanied by Ambassador Karlo Sikharulidze, Ambassador Plenipotentiary and Extraordinary of Georgia to Italy; by the Deputy Minister of Defence of Georgia Mr Besik Loladze, and other high ranking officers and officials from the Georgian Ministry of Defence.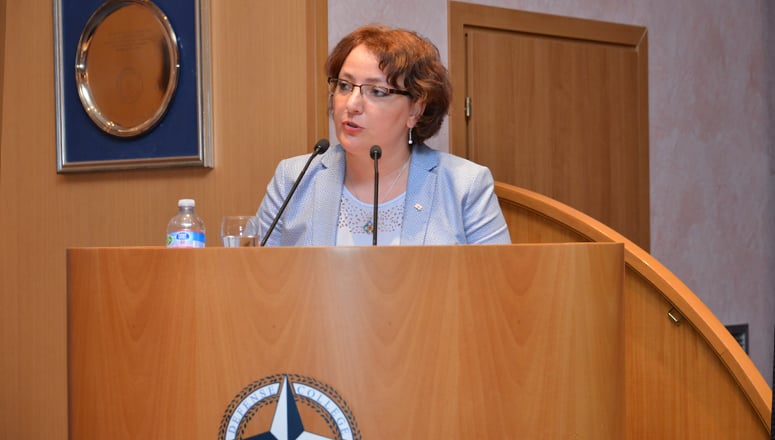 Upon arrival, Minister Khidasheli was warmly welcomed by the Commandant of the NDC, Major General Janusz Bojarski (POL A), by the NDC Dean, Dr Daria Daniels Skodnik (SVN C) and by the NDC DOM, Brigadier General Salvatore Carta (ITA A). Following an office call with the Commandant, the Georgian Minister of Defence gave a speech to SC128 in which she stressed the importance of sharing perspectives with NATO partners and acting jointly to address common security challenges. In particular, she mentioned the security challenges her country has faced over the past 25 years. Furthermore, she highlighted the importance for her country of being part of the NATO Partnership for Peace: a programme of practical bilateral cooperation between individual Euro-Atlantic partner countries and NATO. It allows partners to build up an individual relationship with NATO, choosing their own priorities for cooperation. In her conclusions, Minister Khidasheli reaffirmed that Georgia will pursue its efforts to become a member of the North Atlantic Treaty Organization.
The Georgian Minister of Defence, H.E. Tinatin Khidasheli, graduated from Tbilisi State University in 1995, majoring in international law. She also attended the Central European University, the Washington Law School and Yale University. She was an active leader of the Georgian NGO sector and Chairperson of the Georgian Young Lawyers' Association from 2000 to 2004. Since 2005, Minister Khidasheli has been a member of the Republican Party. She is the first woman Defence Minister in Georgia.