Senior Course 129: European Perspectives and International Organizations Field Study - Berlin
29 Sep. 2016
|
Last updated: 05 Oct. 2016 07:29
On Wednesday 28 September, Senior Course 129 continued its European Perspectives and International Organizations Field Study in Berlin. Course Members started the day with briefings and presentations at the Ministry of Defence, followed by a visit to the German Parliament for a discussion with parliamentarians.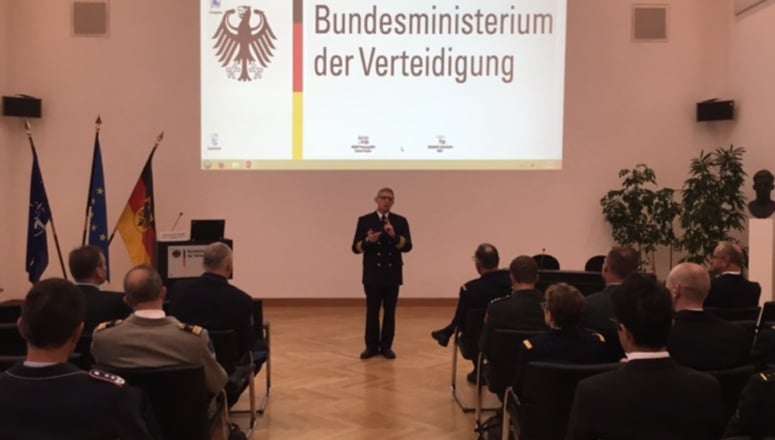 The group was welcomed to the MOD by Konteradmiral Hans-Christian Luther (see picture 1), who began the day's briefings with a talk on "German commitment to multinational operations". Mr Scheibl then gave a clear and systematic presentation of major threats to security, from a German viewpoint and also in an international context: member states clearly have different priorities and perceptions, depending on their geographic location and political environment. Equally interesting was the explanation about quick top-down political decision-making in case of need, as in operations to counter DAESH: in this particular example, Germany took only 11 days to deploy navy, army and air force troops in a coalition operation. German security and defence policy was also discussed, as was the national White Paper for the Armed Forces and Foreign Policy.
Moving on to the Bundestag building in the afternoon, Course Members engaged in discussion with two parliamentarians (from the CDU and SPD), both full members of the Parliamentary Foreign Affairs Committee. Dr Ute Finck-Kramer (SPD) (picture 2) had already met previous Senior Courses for sessions of this kind. It is interesting that, on occasions like this, there are currently many special topics for SC 129 to examine with policymakers: the consequences of Brexit, the possibility of a future EU army, the new EU CSDP, the 2% GDP pledge from the Wales summit, and the upcoming elections in the USA.
In the evening, SC 129 enjoyed LtGen Dieter Warnecke's hospitality at a Bavarian evening, with live music played by the Bundeswehr Band.
A great day, good discussions and fantastic German hospitality will remain in Course Members' memories.