Senior Course 129: Field Study 1 – Paris
05 Oct. 2016
|
Last updated: 05 Oct. 2016 17:10
Meeting Course Members at the Hôtel des Invalides, LtGen Clairmont opens the session in Paris with a 'tour d'horizon': the security threats, concerns and challenges. Daesh is the first on the menu, especially the return of foreign fighters which could further damage the cohesion of French society. Daesh is quickly followed by threat number 2: the proliferation of weapons of mass destruction (chemical, nuclear). Developments in North Korea, China and Russia are significant and need to be followed closely. Africa is the continent in which the beautiful and hopeful side of the coin has a black side as well: weapons' smuggling, a breeding place for terrorism, human trafficking, huge population growth, etc. The last part of the presentation illustrates China's behaviour in the South China Sea and the land reclamation of some islands. The General went on to explain that defense posture, deterrence and a balance of NATO's three core tasks is important for our Alliance, with compatible forces able to fulfill the full range of missions.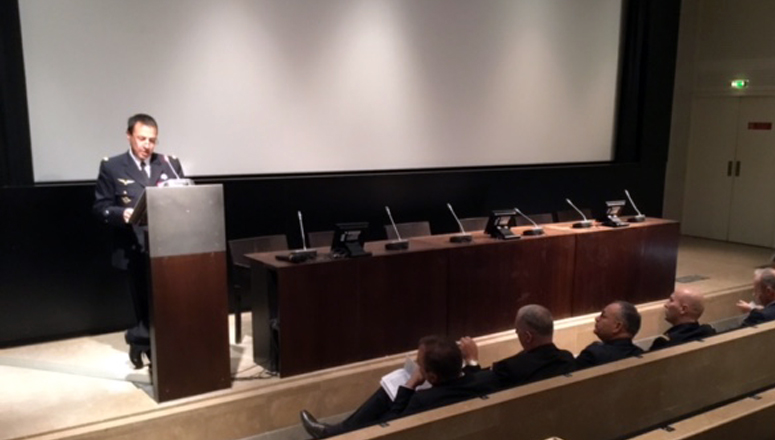 Mr Oliver Landour discussed " NATO post-Warsaw" after first explaining France's position within NATO, including its withdrawal in 1966 and the return to an integrated military structure in 2009. France is satisfied with its position now and supports the outcome of the Wales and Warsaw summits which are fully in line with French interests. The core function of collective defence is nuclear deterrence. The French White paper identifies 5 strategic tasks for French forces: deterrence, prevention, protection, knowledge and participation. The country participates in many NATO exercises and will be a framework nation for one of the future VJTFs. The Wales 2% / 20% pledge is not fully achieved yet, but by 2019 France should have met both. According to the speaker, NATO's way ahead should be adaptive: the issue of Ukraine, the rise of jihadism on the Southern flank, NATO's unity, credibility and sustainability are all subjects on the French agenda. But, the stepping up of European countries and a better balance in burden sharing should be discussed within NATO as well.
The briefing on French operations showed the commitment both at home and abroad, where France is taking action against the radical Islam of Daesh in the Sahel and the subSahara, for the stabilization of the fragile Central African Republic, and against piracy on the West coast of Africa.
Mr Etienne de Gonneville (Ministry of Foreign Affairs) discussed France's position and interests in international organizations. France's autonomy and freedom of movement in these organizations are considered important principles.