New Research Division Publication: "Free of Charge, Straightforward, and Policy-Oriented: An Alternative to Academic Journals"
06 Oct. 2016
|
Last updated: 02 Oct. 2018 09:47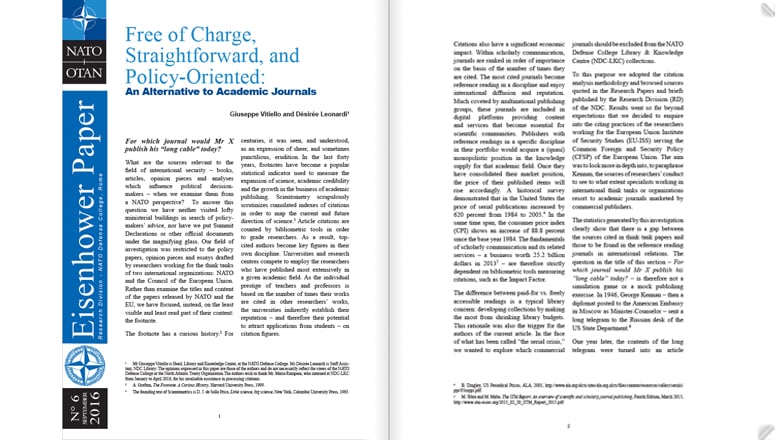 Dear Reader,

What sources are most relevant to the field of international security? When approached from a NATO perspective, where do we find the most valuable books, articles, opinion pieces and analyses which can influence political decision-makers? From 2012 to 2015, researchers working for the NATO Defense College (a NATO think tank) and the European Union Institute of Security Studies (a EU think tank) referred mainly to think tank articles and reports released by governmental agencies and international organizations. Unlike the sources more commonly used in academia, such paid-for, prestigious journals with a high impact factor accounted for less than 10 per cent of the total citations in NDC "Research papers" and EU-ISS "Chaillot Papers", whereas the so called "grey" literature provided by think tanks and government organizations was the basis for almost 50 per cent of citations. This practice contradicts the idea that there exists a hierarchy of sources in international relations, with commercial journals at the top of the list.
Screening NATO-related, freely accessible, institutional sources in international security as an alternative to paid-for academic journals is the main rationale for NATSHEL (NATO Sources for Higher Education and Learning), a one-stop portal for researchers dealing with NATO Studies which focuses specifically on think tank articles and governmental reports. NATSHEL is being designed and implemented by the NDC Library and Knowledge Center. The authors of this paper conducted their research into the sources used by NDC and EU research paper as part of their work on NATSHEL.
We hope you enjoy reading this latest Eisenhower Paper, which explains what many of us in the think tank business already knew but could not quantify, until now: that when writing papers requiring a quick turn-around on current issues, a public policy researcher is more likely to turn to more recent online sources than is his or her academic colleague.
Regards,
Jeff
Jeffrey A. Larsen, PhD, Division Head Research