New Research Division Publication - Rethinking Deterrence and Assurance: Russia's Strategy Relating to Regional Coercion and War, and NATO's Response
26 Oct. 2016
|
Last updated: 02 Oct. 2018 09:48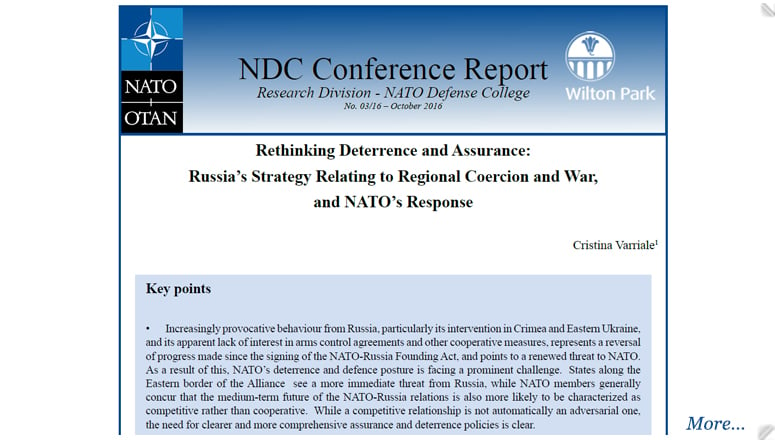 Dear Reader,

This conference report is a reprint of a report written by Cristina Varriale, a Research Analyst with RUSI in London, and published by Wilton Park following the annual deterrence conference held in West Sussex, UK, in May 2016. Its findings reflect the discussions over two days by a select group of senior policy makers, analysts, and academics in the quiet confines of the British countryside. The NDC Research Division has been honoured to contribute to this annual event as a sponsoring organization for the past three years. It is reprinted with the permission of Wilton Park.

Among the findings that Cristina highlights are that NATO lacks an overarching strategy that integrates both nuclear and conventional deterrence, and that the Alliance needs to pursue a set of options over the longer term to ease current tensions with Russia. Although options for such engagement are currently limited by a lack of Russian interest, the Alliance needs to be able to identify appropriate avenues for de-escalation and dialogue.

We hope you find this summary a valuable and interesting review of some of the deterrence issues that NATO is wrestling with today.
Regards,
Jeff

Dr Jeffrey A. Larsen
Director, Research Division
NATO Defense College