Researcher
Dr Cynthia Salloum is a Faculty Advisor and Senior Researcher at the NATO Defense College.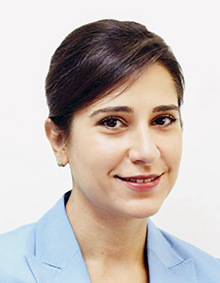 Before joining NDC she was respectively a Max Weber Fellow at the SPS department and an associate researcher at the Robert Schuman Centre for Advanced Studies of the European University Institute in Florence (2015-2018) and a lecturer at Sciences Po in Paris (2013-2018). Previously, she was affiliated to the Institute for Strategic Studies (IRSEM) at the French Ministry of Armies (2010-2014).
Her research covers topics of diplomacy, foreign policy, political violence, radicalization and international security —with a focus on the role of non-state actors (diasporas, lobbies and religious actors). She received a PhD from the EHESS in Paris where she was an active member of the CESPRA (Raymond Aron Center for Sociological and Political Studies). She also held teaching and research fellow positions in the fields of political philosophy, comparative politics and international relations, at the Colegio de México; Boston College; the Social Science Research Council in New York; University of São Paulo; the Pontifícia Universidade Católica in São Paulo; New York University (Florence campus) and at the EUI in Florence.
Her publications include "Violence", in F. Ramel, J.-B. Jeangène Vilmer and B. Durieux (eds.), Dictionnaire de la Guerre et de la Paix, PUF, Octobre 2017; "Diasporas and Statecraft: the salient relevance of a concept", Transnational Studies Initiative (TSI) Working Paper Series, Harvard University, April 2015; "La sécurité des territoires transfrontaliers à l'ère du global. La Triple Frontière (Brésil, Argentine, Paraguay)", Lettre de l'IRSEM, Institut de Recherches Stratégiques de l'Ecole Militaire, Paris, July 2014; and the book Penser la violence collective, co-edited with B. Brice, Nuvis, January 2012.