Vox Collegii Magazine
Vox Collegii is the magazine of the NATO Defense College (NDC). First published in 2010, each edition brings new insights on life at the College, from the past to the present.
Vox Collegii is both a culmination and compilation of the experiences of Course Members and Anciens. Experts contribute articles on NATO-related topics, as well as in-depth interviews with the high-level figures, practitioners and people who help shape the College. The magazine is an invaluable resource to learn about and stay up-to-date with the NDC's activities and mission.
Since the 21nd edition of Vox Collegii, the semi-annual Anciens' Association Spotlight has now been integrated into the magazine as a special section dedicated to the Anciens community.
Enjoy!
By NATO Defense College PAO
Vox Collegii Magazine No. 23 - November 2022
By NATO Defense College PAO
Vox Collegii Magazine No. 22 - April 2021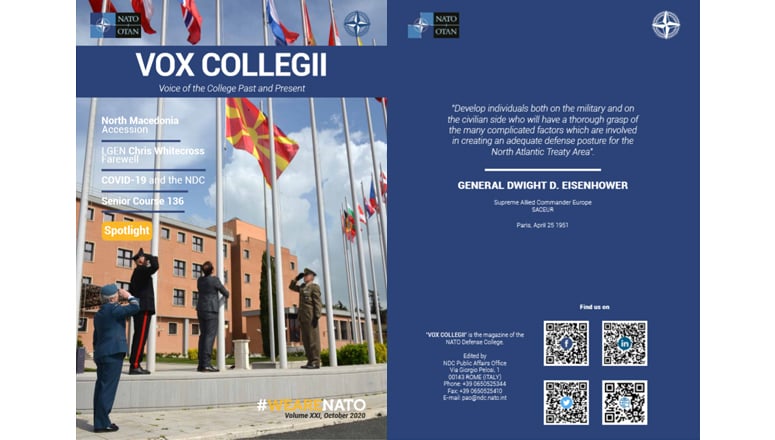 By NATO Defense College PAO
Vox Collegii Magazine No. 21 - October 2020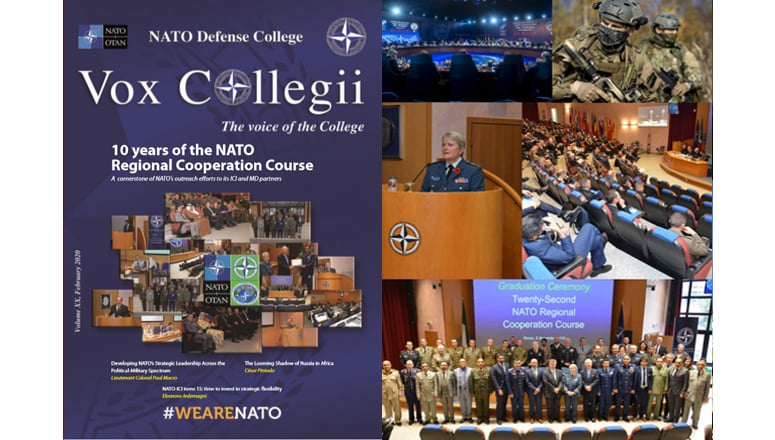 By NATO Defense College PAO
Vox Collegii Magazine No. 20 - March 2020
By Pierre DUGUE; Alexander MOENS; Alexandra RICHARDS; Cornel TURDEANU; Harleen ATWAL; Thierry TARDY; Ugo CONSIGLIO; NATO Defense College PAO;
Vox Collegii Magazine No. 19 - July 2019
By Eric LAMBERT; Ashraf Mohammed KISHK; Gregorio BAGGIANI; Giovanni PARIGI; NATO Defense College PAO;
Vox Collegii Magazine No. 18 - February 2019
By Dinos A. KERIGAN-KYROU; Giulia DAGA; Christopher DE MARCO; Maria Elena ARGANO; NATO Defense College PAO;
Vox Collegii Magazine No. 17 - September 2018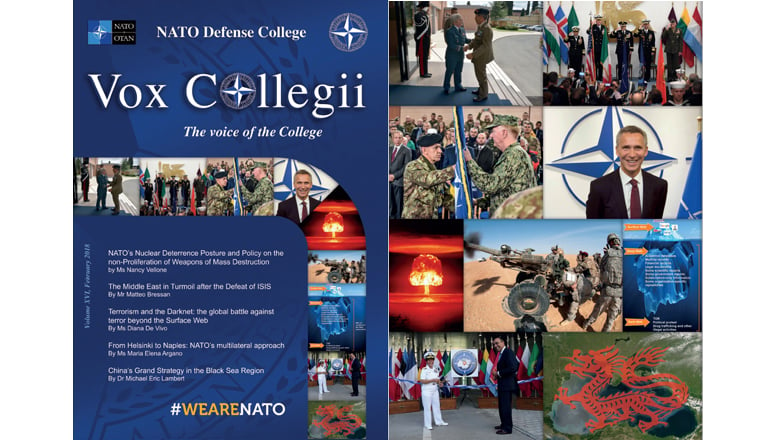 By Diana DE VIVO; Nancy VELLONE; Matteo BRESSAN; Maria Elena ARGANO; Eric LAMBERT; NATO Defense College PAO;
Vox Collegii Magazine No. 16 - March 2018
By Michael RÜHLE; Alessandra Giada DIBENEDETTO; Diana DE VIVO; Nadja EL FERTASI ; Daisy BISOFFI; NATO Defense College PAO;
Vox Collegii Magazine No. 15 - July 2017
By Jeffrey A LARSEN; Alessandra Giada DIBENEDETTO; NATO Defense College PAO;
Vox Collegii Magazine No. 14 - February 2017
By Brooke A. SMITH-WINDSOR; NATO Defense College PAO; Diana DE VIVO; Nadja EL FERTASI ;
Vox Collegii Magazine No. 13 - July 2016
By NATO Defense College PAO
Vox Collegii Magazine No. 12 - February 2016
By NATO Defense College PAO
Vox Collegii Magazine No. 11 - August 2015
By NATO Defense College PAO
Vox Collegii Magazine No. 10 - February 2015
By NATO Defense College PAO
Vox Collegii Magazine No. 9 - July 2014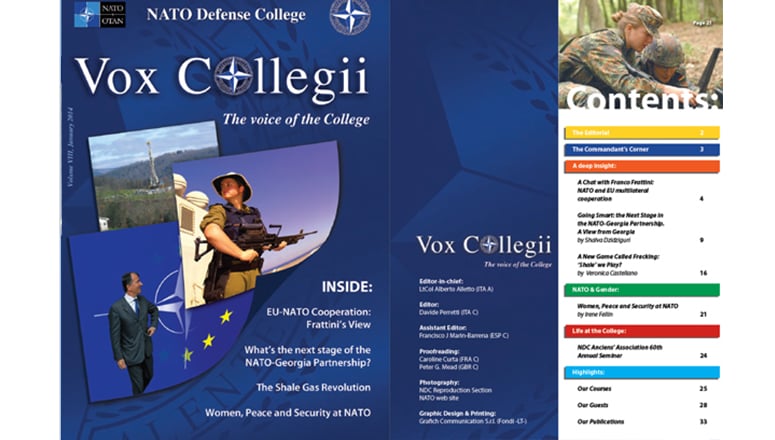 By NATO Defense College PAO
Vox Collegii Magazine No. 8 - February 2014
By NATO Defense College PAO
Vox Collegii Magazine No. 7 - July 2013
By NATO Defense College PAO
Vox Collegii Magazine No. 6 - January 2013
By NATO Defense College PAO
Vox Collegii Magazine No. 5 - July 2012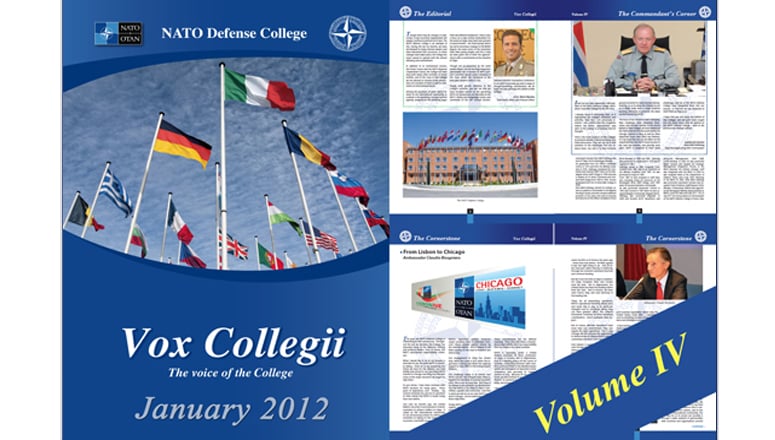 By NATO Defense College PAO
Vox Collegii Magazine No. 4 - February 2012
By NATO Defense College PAO
Vox Collegii Magazine No. 3 - July 2011
By NATO Defense College PAO
Vox Collegii Magazine No. 2 - January 2011
By NATO Defense College PAO
Vox Collegii Magazine No. 1 - July 2010