Christopher M. Schnaubelt, Ph.D.
The DEAN
Last updated: 28 Apr. 2022 11:28
The Dean is responsible for the quality of the academic program, oversight of the curriculum and advice on academic policies.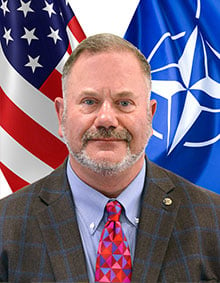 In this role he oversees the Academic Planning and Policy Division, the Academic Operations Division, the Research Division and the Middle East Faculty. He assists the Commandant on a variety of issues and initiatives and represents the Commandant during his absences. The Dean cultivates and maintains close relationships with Allied Command Transformation and NATO HQ to insure that guidance on academic, policy and strategic issues will be coordinated and reflected in curriculum planning and development.