Academic Plans, Policy & Engagement Division
Academic Plans, Policy & Engagement Division
Last updated: 25 Aug. 2022 13:32
Ladies and Gentlemen,

Academic Plans, Policy & Engagement Division Division operates at the heart of the College in preparing and implementing academic education. The Division is responsible for developing the academic curricula and academic policies, programmes and events pertaining to the Senior Course and associated shorter courses, and for the preparation and execution of the Generals, Flag Officers and Ambassadors' Course. The Division prepares course reading material and is responsible for the management of lecturers and their presentations.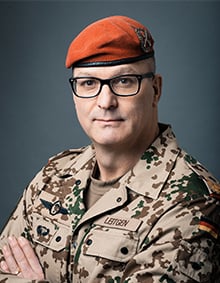 Further, the Division organizes and executes two annual outreach activities; the Conference of National Defence College and Institute Commandants and Kyiv Week. In addition, the Division manages and develops the College mobile learning and e-learning activities, as well as the related Advanced Distributed Learning and other Information and Communications Technology capabilities required to support academic operations.
Part of our ambition is to maintain high quality education, relevant for today and in the future, in order to prepare Course Members for senior appointments in NATO and multinational staffs or for NATO-related duties in capitals.
With the development of our Library and Knowledge Centre and our online Academic Portal, we have adapted modern technology to the benefit of our current Course Members and Anciens. These activities will further help to promote networking in the future. A recently established partnership with Leicester University confirms the high quality of our educational endeavor, and offers Course Members a unique opportunity to continue their academic education on favourable terms.