Modular Short Courses (MSCs)
13 Nov. 2018
|
Last updated: 13 Nov. 2018 00:00
With its modularized structure, certain of the Senior Course (SC) Study Periods are available to military officers and civilian officials who may not be able to attend the NATO Defense College (NDC) for the six month duration of a Senior Course. Accordingly, the NDC offers (up to) five Modular Short Courses (MSCs) during every SC of 5 days duration.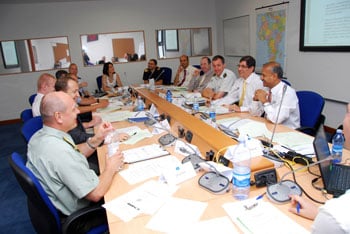 Run in conjunction with the SC, each MSC is designed to both inform and stimulate. They give participants the opportunity to improve their knowledge and develop their understanding of some of the key political, economic, socio-cultural, defence and security related issues which may have worldwide implications for global and Alliance security. The MSCs are thus joined to the SC on a separable but not separate basis.
The first MSC during each SC ("Global Security Environment") is made available to applicants from NATO HQ, ACO and ACT whereas the other MSCs are made available to applicants from the NATO Nations, through their respective Ministry of Defense.
Further details about each MSC, as well as the application process, are sent out to reach the appropriate authorities in good time in advance of each course.
Selected participants will be given access to the restricted access environment where information related to the MSCs can be found.