Senior Course
24 Oct. 2022
|
Last updated: 24 Oct. 2022 00:00
The Senior Course aims to: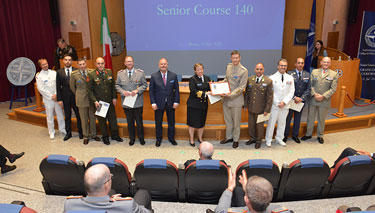 Better prepare OF5/4 level officers and equivalent level civilian officials of the Alliance, the Euro-Atlantic area, Mediterranean Dialogue (MD), Istanbul Cooperation Initiative (ICI) and Selected Contact countries for senior appointments in NATO and multinational staffs or NATO-related duties in Capitals. It also contributes to the further education of officers and officials currently assigned to NATO or in NATO-related posts by opening selected modules of the Senior Course to their participation.
Contribute to the Alliance's outreach programmes by including a limited number of representatives from partner nations, MD, ICI and Selected Contact countries for the full duration of the Senior Course, with an increased participation in the 2-week Integrated Partner Orientation Course, to further the interests of mutual understanding and respect.
The Senior Course objectives are to:
Broaden Course Member's (CM) understanding of the relationship between NATO and the international security environment and to give an appreciation that there are often no simple solutions to the often complex issues emerging in the current dynamic security environment, and that the challenges and opportunities that may be faced in NATO appointments will need to be approached with flexibility and an openness of mind.
Improve the knowledge and understanding of:
the Alliance's shared values and interests, politico–military concept, policies, organisation and working methods;
the internal and external adaptations, and new missions of the Alliance including crisis management and conflict prevention;
the potential risks to the security of the Alliance and its members;
the Alliance's members' political, security, defence and socio–economic systems and interests; their capability and limitations in international relations, particularly in the spheres of defence and security; and their cultural diversity;
the key international organisations which have a role to play in Euro–Atlantic security, particularly the EU, and how they interact with the Alliance and each other;
trends in world affairs in various fields which may influence the security of the Alliance and its members.
Increase the effectiveness of Course Members through a process of:
enhancing their ability to think strategically and analyse critically;
deepening their knowledge and developing new skills, particularly in decision-making/consensus building. To that end, the course provides an opportunity to work and build consensus with officers and officials, from different Alliance and Partner countries, with a wide variety of background and experience with a view to furthering cohesion within the Alliance and between the Alliance and its Partners.
Improve English and/or French language capability.


Senior Course's Study Periods

Study Period A: Strategic Thinking and Leadership

Study Period B: Contemporary NATO – Core Dimensions and Functions 

Negotiations and Mediation Exercise (MSX)
Field Study 1: European Perspectives I

Study Period C: The Global Security Environment and Drivers of Change 

NATO Crisis Management and Negotiation Mediation Decision-Making Exercise (NMDX)

Field Study 2: The Transatlantic Link

Study Period D: NATO Risks & Challenges

Field Study 3: European Perspectives II, other regions

Study Period E: Future NATO –Dealing with the Complexities