Committee Study Project and Individual Paper
29 Sep. 2020
|
Last updated: 29 Sep. 2020 00:00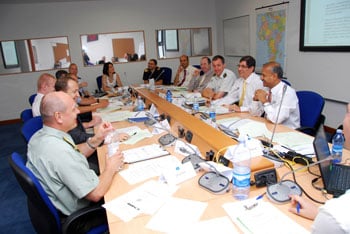 The NATO Defense College Senior Course curriculum has two formally-assessed written requirements: a Committee Study Project (CSP) and an Individual Paper (IP). The CSP's major learning objectives are to demonstrate the following: strategic thinking on a topic relevant to NATO; and consensus-building skills in answering a research question. The Individual Paper has similar objectives but provides Course Members the opportunity to express their individual research, analysis, and communication skills. The CSP/IP topics are derived from the NDC Research Division Annual Research Work Plan, which is approved annually by NATO's Military Committee and noted by the North Atlantic Council.
The CSP has emerged as the NATO Defense College Senior Course capstone project wherein Course Members demonstrate achievement of important curriculum objectives, by:
Broadening knowledge and understanding of NATO;
Improving strategic thinking skills;
Fostering an open-minded attitude.
The CSP/IP process is designed as a lens for Course Members to observe and to reflect upon the content of each Study Period, Field Study and exercise throughout the entire course. The IP may be produced as a research paper or as a policy brief, and should be 2,400 words. The CSP results in two consensus-based products: an agreed paper between 2,500 and 3,000 words; and a formal presentation to the NDC Faculty, Course Members, and representatives from the NATO Headquarters and Strategic Commands.