The NDC hosts a Strategy Workshop on NATO-EU Cooperation in the South and Beyond
28 Mar. 2017
|
Last updated: 28 Mar. 2017 14:22
On 27 March, 2017 the NATO Defense College hosted, in partnership with the Atlantic Council and the US mission to NATO, a high-level workshop entitled "Enhancing NATO-EU Cooperation: Looking South and Beyond". The aim of the workshop was to gather NATO and EU experts, officials and practitioners to discuss the current pace and future prospects of collaboration between the two organizations, particularly in the Middle East and North Africa (MENA) region.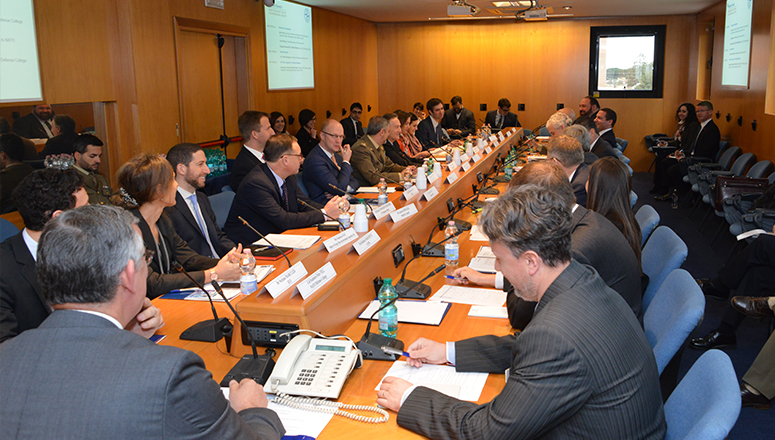 In the aftermath of the signature of the NATO-EU Joint Declaration during the Warsaw Summit of July 2016, 42 specific programmes were proposed for implementing the document. This common set of proposals was at the basis of the workshop, with a specific focus on the Mediterranean region, which is considered a crucial theatre for NATO-EU cooperation. The high-level discussion was divided into two panels: the first one addressed how to strengthen NATO-EU resilience against hybrid threats, while the second panel analyzed means to improve cooperation between the two organizations in the Southern neighbourhood. While a positive assessment was made on the current and future level of cooperation in the Mediterranean Sea between the two respective maritime operations – NATO Operation Sea Guardian and EUNAVFOR Operation Sophia – the need to increase coordination on counter-terrorism was raised. Participants agreed on the necessity to increase information sharing and situational awareness across institutions. The importance of identifying common goals and strategies was highlighted, as well as educating the younger generations.
Representatives from both NATO and EU agencies, the US government, several think tanks and institutions, and members of the NDC faculty joined the workshop. The key conclusions included statements on the principles of complementarity and non-competitiveness between the Alliance and the European Union, the importance of enhancing capacity building and pursing a holistic approach in the MENA region, and finally, the uncertainty on the new US administration's posture on the matter.