New Research Division Publication -
Russian Forward Military Basing in Armenia and Moscow's Influence in the South Caucasus
07 Dec. 2017
|
Last updated: 02 Oct. 2018 09:42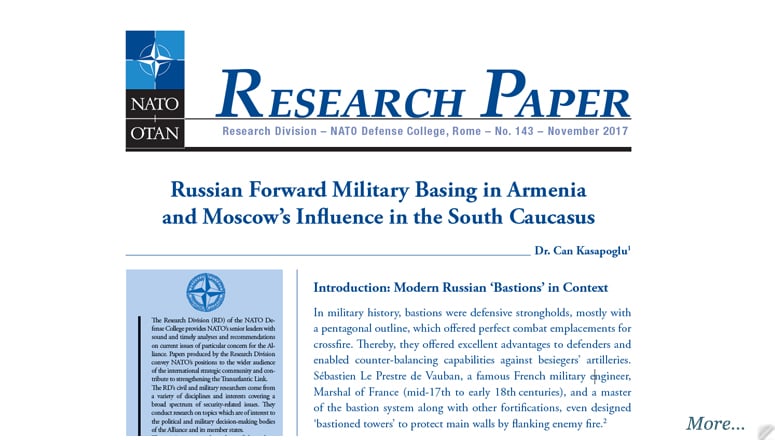 Dear Reader,

In military history, bastions were defensive strongholds offering perfect combat emplacements for crossfire. Nowadays the term is used to describe Russian forward deployed military nodes with robust anti-access/area denial and power projection capabilities. These nodes are not simply military bases but represent the Kremlin's geopolitical outreach assets and have recently become a serious concern for the Alliance.
The latest Research Paper by the Research Division focuses particularly on the Russian bastion in Armenia, which is a determining factor in the strategic balance of the South Caucasus. The region deserves NATO's strategic awareness and attention for several key reasons: the South Caucasus is now the scene of three concurrent frozen conflicts (South Ossetia, Abkhazia and Nagorno-Karabakh); Russian military activity in the Caucasus has been militarizing the region's agenda for a long time. In the course of the deterioration in Turkish-Russian relations Moscow boosted its forward-deployed military presence in Armenia, where they play an important role in the Azerbaijan-Armenia military strategic balance, since these two NATO partner nations are technically at war with each other over the protracted Nagorno-Karabakh conflict.
The Russian military footprint in the South Caucasus remains a geopolitical barrier for NATO' s potential opportunities in the region.
We hope you enjoy this paper by a former Research Fellow in our division.
Regards,

Jeff
Jeffrey A. Larsen, PhD, Director Research Division