No time to hedge? Articulating a European pillar within the Alliance
03 Mar. 2020
|
Last updated: 09 Mar. 2020 11:06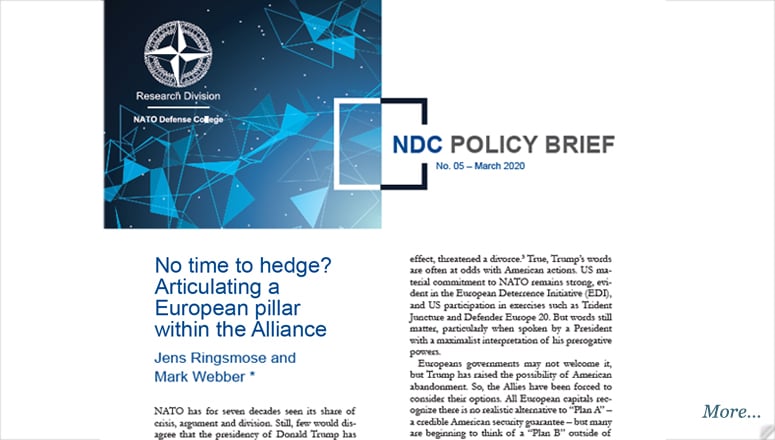 NATO has for seven decades seen its share of crisis, argument and division. Still, few would disagree that the presidency of Donald Trump has added a new layer of discord and unpredictability to what the late Michael Howard once described as "an unhappy successful marriage". 1 Germany, France, and Denmark have all been brow-beaten by the US President, and even the UK, America's staunchest ally, has been taken aback by Trump's behavior. 2 But there is something far worse going on here than a marital argument. By calling into question America's commitment to Article 5 and even to NATO membership itself Trump has, in effect, threatened a divorce. 3 True, Trump's words are often at odds with American actions. US material commitment to NATO remains strong, evident in the European Deterrence Initiative (EDI), and US participation in exercises such as Trident Juncture and Defender Europe 20. But words still matter, particularly when spoken by a President with a maximalist interpretation of his prerogative powers.
*
(back)
Jens Ringsmose is Dean at the Faculty of Business and Social Science, University of Southern Denmark. Mark Webber is Professor of International Politics, School of Government, University of Birmingham.
1
(back)
M. Howard, "NATO at Fifty. An unhappy successful marriage: security means knowing what to expect",
Foreign Affairs
, Vol.78, No.3,
2
(back)
A. Bienkov, "The UK is abandoning its alliance with Trump as the United States 'withdraws from its leadership around the world'",
Business Insider
, 12 January 2020.
3
(back)
J. Benitez, "US NATO policy in the age of Trump: controversy and consistency",
The Fletcher Forum of World Affairs
, Vol.43, No.1, 2019.
Download the publication to keep reading.