NATO and CSDP: party and public positioning in Germany and France
09 Jun. 2020
|
Last updated: 09 Jun. 2020 11:41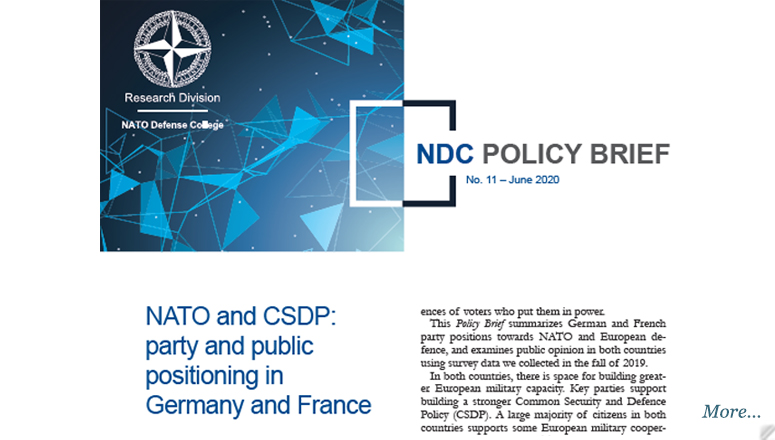 On the eve of NATO's 70th anniversary, French President Macron called NATO "brain dead" while advocating for increased European defence capacity, possibly alongside NATO rather than through it. The German reaction was cold. Defence Minister Kramp-Karrenbauer responded: "If we reinforce Europe's defence, we have to reinforce the European presence within NATO".1 Which path is the future of European security likely to take, and do elites and the public see these paths as mutually exclusive?
Considering domestic politics is essential when thinking about the future of European security and defence. Governments of differing political outlooks shape policy agendas. The political parties that form governments, in turn, are constrained by the preferences of voters who put them in power.
This Policy Brief summarizes German and French party positions towards NATO and European defence, and examines public opinion in both countries using survey data we collected in the fall of 2019.
---
*
(back)
K. Gavras, M. Mader, and H. Schoen are with the University of Mannheim; T. Scotto is with the University of Glasgow; J. Reifler and C. Thomson are with the University of Exeter; S. Hofmann is with the Graduate Institute of International and Development Studies, Geneva. This work is part of the SecEUrity project funded by the VW Foundation.
1
(back)
S. Johansson, "NATO dismisses French president's call for 'strategic' nuclear dialogue",
The Brussels Times
, 17 February 2020.
---
Download the publication to keep reading.