NATO and the COVID-19 emergency: actions and lessons
25 Sep. 2020
|
Last updated: 25 Sep. 2020 10:54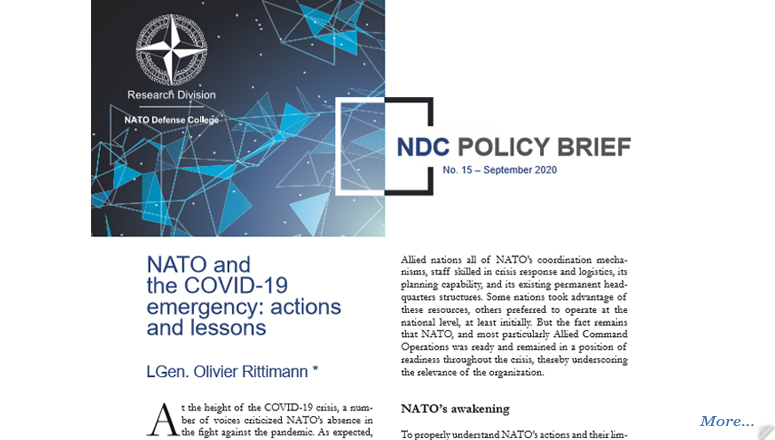 At the height of the COVID-19 crisis, a number of voices criticized NATO's absence in the fight against the pandemic. As expected, many of these critics came from Russia and China, exploiting a highly effective STRATCOM to allege an apparent lack of NATO involvement. However, criticism also emerged from within the Alliance, urging that NATO should wake up to the situation. Russian propaganda, backed by the actual deployment of planes and trucks to Italy, and domestic condemnation fueled a sense of discontent in people as regards the usefulness and effectiveness of international organizations at large, and more specifically NATO and the European Union (EU). This impression of inaction persisted for a couple of weeks after the outbreak of the COVID crisis in most Allied nations, until eventually an aggressive counter messaging strategy was put forward by NATO HQ, SHAPE and individual nations themselves.
Nevertheless, beside this STRATCOM battle, NATO, in actual fact, responded very early on as the crisis was developing, first by making sure the health emergency did not turn into a security crisis by giving the false impression that our forces had lowered their guard, which could have led to an escalation of tensions with Russia; but also by making available to Allied nations all of NATO's coordination mechanisms, staff skilled in crisis response and logistics, its planning capability, and its existing permanent headquarters structures. Some nations took advantage of these resources, others preferred to operate at the national level, at least initially. But the fact remains that NATO, and most particularly Allied Command Operations was ready and remained in a position of readiness throughout the crisis, thereby underscoring the relevance of the organization.
---
*
(back)
Commandant of the NATO Defense College. As Vice-Chief of Staff at SHAPE when the COVID crisis started, LGen. Rittimann was Head of the COVID-19 Task Force.
---
Download the publication to keep reading.