COVID-19 and the defence policies of European states
27 Oct. 2020
|
Last updated: 27 Oct. 2020 16:59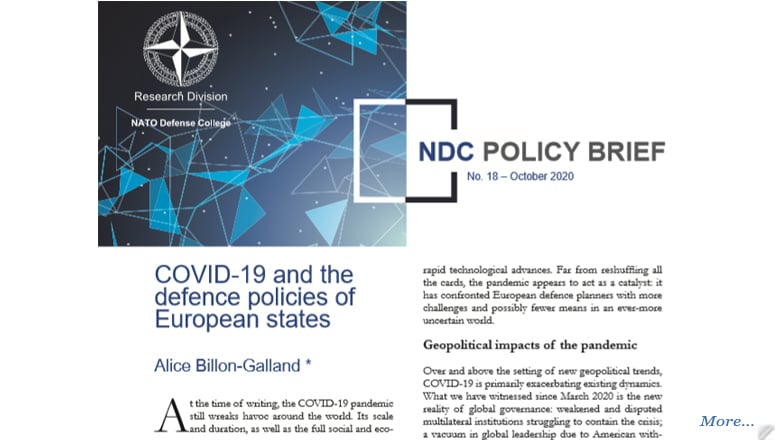 At the time of writing, the COVID-19 pandemic still wreaks havoc around the world. Its scale and duration, as well as the full social and eco-nomic impact of lockdowns and social distancing mea-sures, are yet to be seen. Exactly how the pandemic and its aftermath will impact the defence policies of European states in the long-term remains uncertain for a while yet. However, some Europe-wide trends – eco-nomic, strategic, and geopolitical – are already visible. These will impact how Europeans (re)think their secu-rity after the pandemic, and therefore have implications for defence planners, decision-makers and armed forc-es throughout the continent.
So far, there have been limited direct security con-sequences of COVID-19 in Europe and no major de-fence budget cuts have been announced. In the long run though, the post-pandemic outlook presents many challenges for Europe, from an increasingly volatile strategic environment to renewed pressure on defence budgets. The current crisis could lead to a multiplica-tion and reprioritisation of the tasks of the armed forc-es, in line with a review of national security policies to better encompass non-military threats and strengthen societal resilience.
However, not all changes in defence policy in the coming years should be interpreted as a direct impact of the pandemic. Certain long-term shifts in Euro-pean strategic thinking were already at play before COVID-19, in part to account for the changing stra-tegic landscape, difficult transatlantic relations, and rapid technological advances. Far from reshuffling all the cards, the pandemic appears to act as a catalyst: it has confronted European defence planners with more challenges and possibly fewer means in an ever-more uncertain world.
---
*
(back)
Research Associate in the Europe Programme at Chatham House, the Royal Institute of International Affairs, London. Alice Billon-Galland has recently been appointed as a member of the NATO Young Leaders Group that will assist Secretary General Stoltenberg in the NATO 2030 process.
---
Download the publication to keep reading.