China in the COVID world: continued challenges for a rising power
12 Nov. 2020
|
Last updated: 12 Nov. 2020 16:34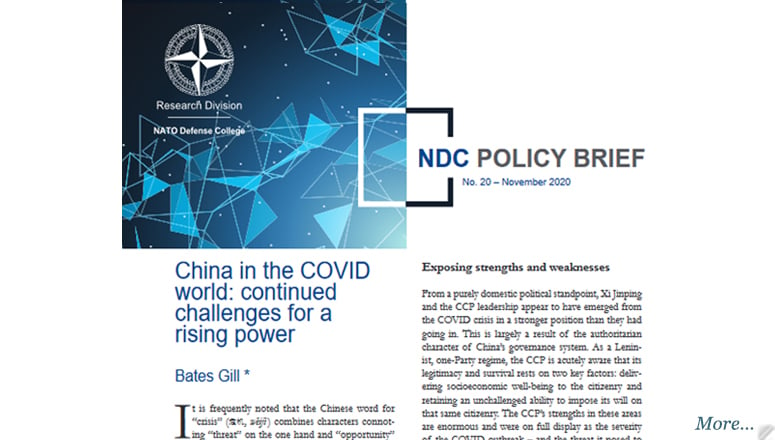 It is frequently noted that the Chinese word for "crisis" (危机, wēijī ) combines characters connoting "threat" on the one hand and "opportunity" on the other. This bit of linguistic trivia can be overdrawn. For China and the COVID-19 crisis, however, it rings true: the pandemic and its aftermath have generated dangerous problems for the Chinese leadership while also opening enticing opportunities.
As China and the world look to emerge from the COVID-19 calamity, enormous questions arise. How will the crisis affect the rise of the People's Republic of China (PRC) and the expansive ambitions of Chinese leader Xi Jinping and of the Chinese Communist Party (CCP)? Will the COVID crisis prove a threat to the "China Dream" or an opportunity to achieve it?1
---
*
(back)
Professor of Asia-Pacific Security Studies, Macquarie University (Sydney) and Senior Associate Fellow, Royal United Services Institute (RUSI), London.
1
(back)
For some earlier takes on these questions, see K. M. Campbell and R. Doshi, "The Coronavirus could reshape global order",
Foreign Affairs
, 18 March 2020; K. Mahbubani, "How China could win over the post-Coronavirus world and leave the US behind",
Market Watch
, 14 April 2020; B. Gill, "China's global influence: post-COVID prospects for soft power",
Washington Quarterly
, Vol.43, No.2, June 2020, pp. 97-115; N. Rolland, "China's pandemic power play",
Journal of Democracy
, Vol.31, No.3, July 2020, pp. 25-38.
---
Download the publication to keep reading.