Presentation of Committee Study Projects for Senior Course 137
22 Jan. 2021
|
Last updated: 23 Jan. 2021 12:12
One of the Senior Course's seminal moments took place this week at the NATO Defense College with the presentations of the Committee Study Projects (CSP). Over two days, Course Members revealed the sum of their many months of their hard work in Committee with the presentation of CSPs that covered a wide range of NATO-related topics.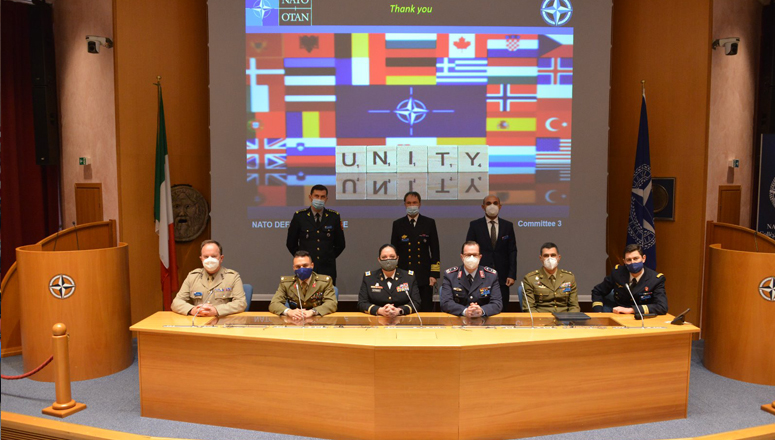 As stated in the Committee Study Project guide, the two main learning objectives of this activity are to demonstrate 1) strategic thinking on a topic relevant to NATO and 2) consensus-building skills in answering the CSP research question.
Each Committee is accompanied by a Faculty Advisor (FA), Mentor and Project Sponsor throughout the entire process. The role of sponsor is a new feature that was introduced for the first time during SC136. The sponsor's main role is to provide feedback and to facilitate connections between Course Members and experts in the field.
Over the course of two days, the seven committees presented their NATO-related topics in the main auditorium before their fellow Course Members, and special guests who participated virtually, alongside the judging panel that will decide to whom the best CSP will be awarded with the Eisenhower Prize. The winning Committee will be announced on graduation day.
The three visitors who joined the panel of judges for CSP presentations were Assistant Secretary General Dr John Manza, Turkish Military Representative to NATO, LGN Ismail Üner and Lithuanian Military Representative to NATO BGEN Remigijus Baltrėnas. The NDC Commandant, the NDC Dean, BGEN Wagner, BGEN Molnar and Dr Tardy also form part of the panel. Due to COVID-19 restrictions, all sponsors and mentors who are not based in Rome attended the presentations online.
The presentations ended with closing remarks delivered by the Commandant of the NATO Defense College.