Operation Althea and the virtues of the Berlin Plus Agreement
25 Jan. 2021
|
Last updated: 25 Jan. 2021 13:38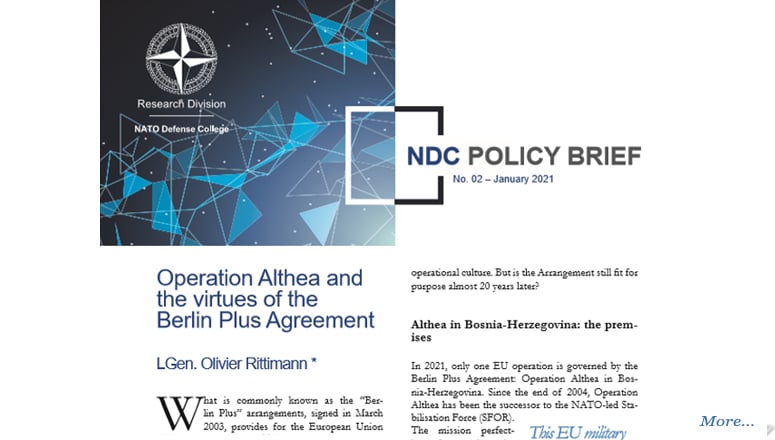 "What is commonly known as the "Berlin Plus" arrangements, signed in March 2003, provides for the European Union (EU) to draw upon NATO's assets and capabilities for operations in which the Alliance would not be militarily involved. Following lengthy delays incurred by the Cyprus question, it was only as of 2003 that the agreement was successfully implemented with the transfer of operations from NATO to the EU in both the former Yugoslav Republic of Macedonia (2003) and then in Bosnia-Herzegovina (2004).
The Berlin Plus agreement guarantees EU access to NATO planning capabilities, which contribute to EUled military operations through the identification of command options, procedures for release and recall of NATO assets and capabilities, and the exchange of classified intelligence under reciprocal security protection rules.
At the end of the conflicts in the former Yugoslavia (1999), the EU had no defence staff fit to plan nor conduct an operation, and it is only fifteen years ago that member states established national Operation Headquarters (OHQ), which nations make available for EU operations, as was done in 2006 in the Democratic Republic of Congo and in 2007 in Chad. At the end of the 1990s, the Berlin Plus proposal made eminent sense: it prevented any duplication (by the EU) of assets and fostered the emergence of a European operational culture. But is the Arrangement still fit for purpose almost 20 years later?"
Download the publication to keep reading.
---
*
(back)
Commandant of the NATO Defense College
---