SC 138 and NRCC 25 - International Negotiations & Multilateral Simulation Exercise (MSX)
30 Mar. 2021
|
Last updated: 30 Mar. 2021 17:04
On 29 and 30 March 2021, SC 138 and NRCC 25 merged to embark on one of the NATO Defense College's hallmark activities: The International Negotiations & Multilateral Simulation Exercise (MSX).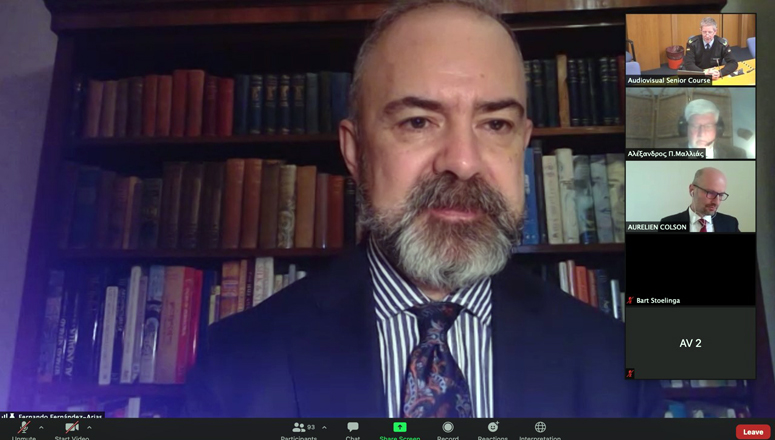 The MSX is a hands-on module wherein Course Members replicate multinational consensus-building processes similar to those of international organizations. Course Members are given a unique opportunity to learn techniques for negotiation, mediation and decision-making multilateral negotiations in complex scenarios, aiming towards one overarching goal: to determine a common course of action.
Day One of the MSX (29 March, preparation day), was launched by Dr. Aurélien Colson of the Institute for Research and Education on Negotiation, who covered the fundamentals of negotiation. Mr. Alexandros Mallias, former Greek Ambassador in Washington, then shared his diplomatic experience on conducting international negotiations. The final lecture was given by the Ambassador Mr. Fernando Fernández-Arias, Director General for United Nations and Human Rights at the Spanish Ministry of Foreign Affairs, who gave first-hand insight on negotiations at the United Nations Security Council. The lectures were followed by a Q&A session moderated by COL Fuente Cobo, the Faculty Advisor responsible for the MSX. To conclude the exercise, Course Members drafted their national clauses for a potential UN Security Council Resolution, forming the basis of the following day's role-play negotiations.
Day two of the MSX (simulation day) showcased full implementation of the computer-assisted exercise based on the Council of Foreign Relations (CFR). At the level of Working Groups (WG), Course Members carried out their assigned roles as though negotiating at UN Security Council meetings. The goal: to achieve agreement on a UNSC resolution. The meetings were followed by a UNSC vote and debrief – a valuable occasion for Course Members to reinforce new or previously acquired skills. In the afternoon, WGs presented their conclusions at a Plenary Debrief. To conclude the International Negotiations & Multilateral Simulation Exercise, the NDC's Dean, Dr. Stephen Mariano, addressed and congratulated all the participants for their success, with a special word of thanks to all personnel who made the NDC's first computer-assisted negotiations exercise in a virtual environment a resounding success.