NRCC 25 – Graduation Day
23 Apr. 2021
|
Last updated: 23 Apr. 2021 15:37
On 23 April 2021, the NATO Defense College graduated NATO Regional Cooperation Course 25 (NRCC 25). Over a 10-week period, the NRCC delved into security issues at the strategic, political and military levels, and all manner of questions which link transatlantic community with the countries of the Mediterranean region and the broader Middle East. The NRCC's 25th edition, which was conducted in hybrid mode due to the COVID-19 restrictions, was capped by a memorable graduation ceremony.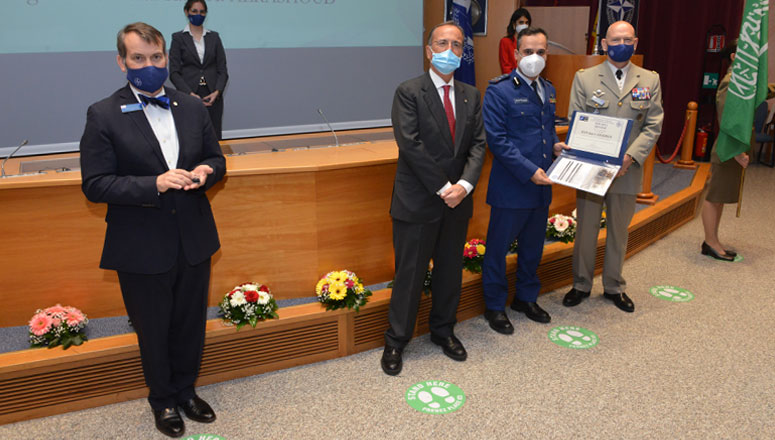 NDC Commandant, Lieutenant General Olivier Rittimann, underscored the significance of the NRCC Course as an educational forum on cross-cutting issues that impact Partner Nations and NATO. Following his introductory remarks, the President of the Italian Society for International Organizations (SIOI) and former Italian Minister of Foreign Affairs, Mr Franco Frattini delivered the Graduation Address entitled "NATO 2030 looking to the South". "EU and NATO have now, more than ever, a role and the duty to work together", he stated, with particular emphasis on NATO's mission in the South.
The NRCC 25's Course President, BGEN Saud Abdulaziz Alrashoud, delivered the Farewell Speech on behalf of Course Members. Minister Frattini and LGEN Rittimann awarded the diplomas to the newly graduated Course Members, whose names were called out by Master of Ceremony COL Angelo Iachetti. The graduation ceremony was held in the NDC auditorium and external guests and officials followed the ceremony online via the NDC's social media platforms.