MSC 138-4 & NATO ICI
27 Apr. 2021
|
Last updated: 27 Apr. 2021 09:16
From 19 – 23 April, the NATO Defense College held a Modular Short Course (MSC) under the NATO - Istanbul Cooperation Initiative (ICI) in conjunction with Senior Course 138.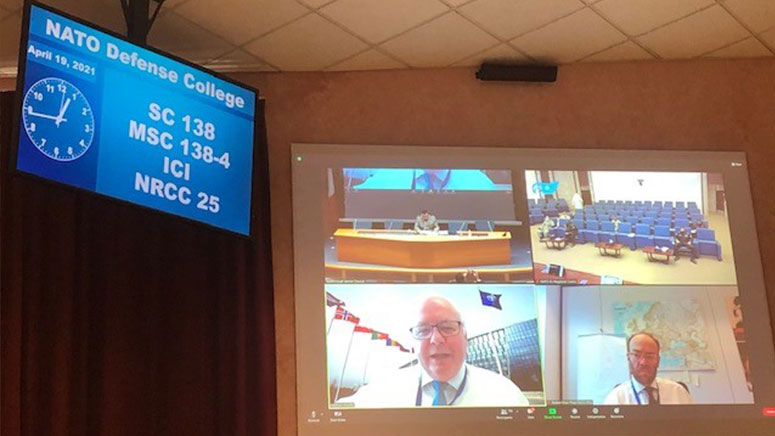 This particular MSC, which focused on 'NATO Present & Future', is designed to analyse the current and future role, character, and complexity of key international organizations. Course Members explored into these institutions' respective structures, policies and activities in order to understand how they relate to NATO and the changing global and regional security environment. The issues presented to MSC 138-4 & the ICI aim to build better knowledge and understanding of these organizations and their enduring dynamics. This is the second MSC to be organized in collaboration with the Regional Center in Kuwait City, and was virtually facilitated by an NDC Faculty Adviser.
The NDC's Commandant, LGEN Olivier Rittimann, extended words of welcome to Course Members and introduced the Course objective. The first lecture of the day, "NATO Strategic Guidance & Vision" was followed by an insightful Q&A. Day one of the MSC 138-4 & ICI concluded with the Committee Discussion. Day two, following the same format, was devoted to "NATO Strategic Communications in the new Media World". The following day focussed on "Strategic Thinking", and day four centered on "NATO Resource Policy". On the final day, MSC 138-4 & NATO – ICI RC took part in a lecture and question period on "NATO in the Future". The MSC 138-4 & NATO - ICI RC was concluded by a 'Virtual Conferment of Certificates', to cap off a most enriching 5-day Course.