Field Study 3 – NATO HQ & Canada Day
10 Jun. 2021
|
Last updated: 14 Jun. 2021 14:27
Senior Course 138's second leg of Virtual Field Study 3 was to NATO HQ and Canada. Lecturers and panelists provided a strategic overview of current and future issues and challenges of the NATO HQ during the first set of lectures, followed by Canada's role within NATO during the second half of the session.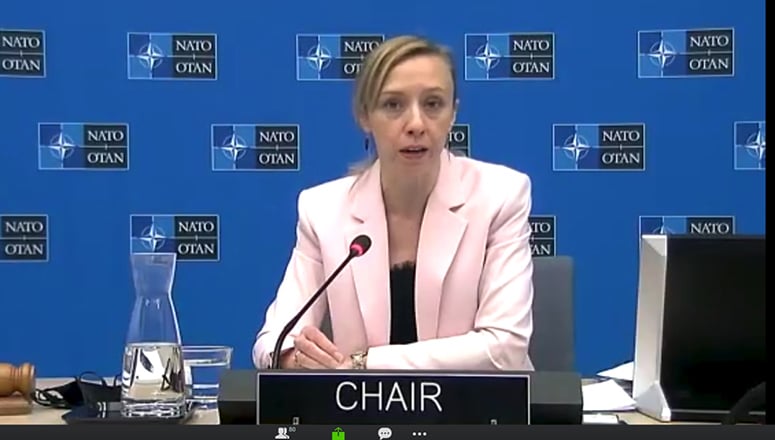 Day 3 of Field Study 3 began with opening remarks by NDC Commandant, LGEN Olivier Rittimann, followed by an introductory speech by LGEN Hans-Werner Wiermann, Director General of the International Military Staff (IMS). The NATO HQ overview began with a lecture by MGen Karl Ford, Director of the IMS Policy & Capabilities (P&C) Division , who discussed current and future challenges in the lead up to the NATO Summit 2021. He also discussed the "NATO 2030: United for a New Era" report. Afterwards, a briefing on the NATO Defence Planning Process (NDPP) was delivered by COL Tim Luiten, Branch Chief of Defence Planning & Capabilities Branch/P&C., Ms Allison Hart, Deputy Head of the Human Security Unit at NATO, spoke about NATO and the UNSCR 1325 on Women, Peace and Security, highlighting the importance of women in operations today. The final lecture concerning NATO and innovation was delivered by Mr Moritz Zimmermann, from the Emerging Security Challenges Division (Innovation Unit), all of which was punctuated by an insightful Q&A session.
The second set of lectures pertained to Canada's Defence Policy and implications for NATO. The second half of the session was opened by NDC Dean, Dr Stephen J. Mariano, followed by a recorded Welcome Message the Minister of National Defence the Honourable Harjit S. Sajjanand and the Acting Chief of the Defence Staff Lieutenant-General Wayne Eyre. Dr Stéphane Roussel and Dr Whitney Lackenbauer briefed Course Members on the role of the defence of North America in NATO and Arctic security. Mr Kevin Hamilton, Director General International Security Policy with Global Affairs Canada, discussed Canada, NATO and the June summit. There was also focuss on the influence of Canadian views for NATO's Concept for the Deterrence and Defence of the Euro-Atlantic Area (DDA) and Canadian views on pan-domain operations and hybrid warfare, delivered by MGen T.J. Cadieu, Director of Staff at the Strategic Joint Staff. The final lecture of the day centered on the foundations of Canadian defence policy, introduced by Mr Pete Hammerschid, Assistant Deputy Minister for Policy, Department of National Defence. Day 3 of Field Study 3 was wrapped up with closing remarks by the appointed Course Member of Committee 5.