Italian Day at the NATO Defense College
27 Sep. 2021
|
Last updated: 27 Sep. 2021 16:16
Today, 27 September 2021, Senior Course 139 attended its first day of Field Study I at the NATO Defense College.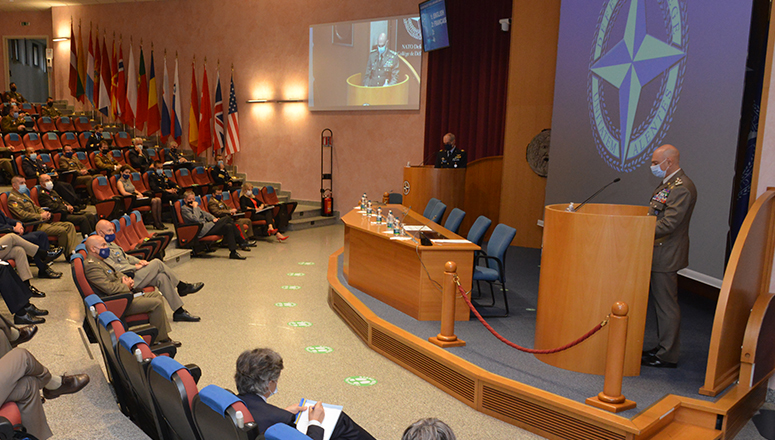 Course Members were briefed by various Italian authorities, including Lieutenant General Luciano Portolano, Italian Joint Operations Headquarter – COVI Commander, on behalf of the Italian Chief of Defence Staff.
Lieutenant General Luciano Portolano was received in the morning by Lieutenant General Olivier Rittimann, Commandant of the NATO Defense College.
After signing the guest book and the office call, they opened the day's sessions.
"Your first Field Study is about the European Security Perspective, and what a better way to start than to be provided insights from our charming host nation: Italy," said LGEN Rittimann in his welcome remarks.
LGEN Portolano then gave his speech wherein he thanked the Commandant for the opportunity to inaugurate Italian Day. He stated that "this prestigious institute is an essential element of the Atlantic Alliance. As one of the most important Colleges in the world in the domain of military studies, the presence of the NATO Defense College here in Italy since 1966 is a great source of pride for the Italian Armed Forces."
The next session by Counsellor Alessandro Cattaneo, from the Italian Ministry of Foreign Affairs, was on "NATO: current adaptation and Italian priorities", followed by a Q&A session, during which Course Members posed many interesting questions.
After a short break, two very insightful presentations were given, the first one on "Elements and strategic perspective of the Italian Defence Policy", by Rear Admiral Luca Conti, from the Italian Minister of Defense, and the second on "National Commitments in the actual strategic context," delivered by Major General Luigi Del Bene from the Italian Joint Operations Headquarter – COVI.
Last but not least, a final lecture on "Challenges of Contemporary Terrorism: The Italian Experience" was led by Dr Ezio Gaetano from the Italian Minister of Interior - Italian Police.
An enriching Q&A panel ensued, thereby concluding Italian Day, Day 1 of Field Study I for Senior Course 139.