SC 139 European Security Perspectives Field Study - France
05 Oct. 2021
|
Last updated: 05 Oct. 2021 08:46
Senior Course 139 continued Field Study 1 in Paris where the delegation gained a deeper appreciation of French perspectives on defence and security matters.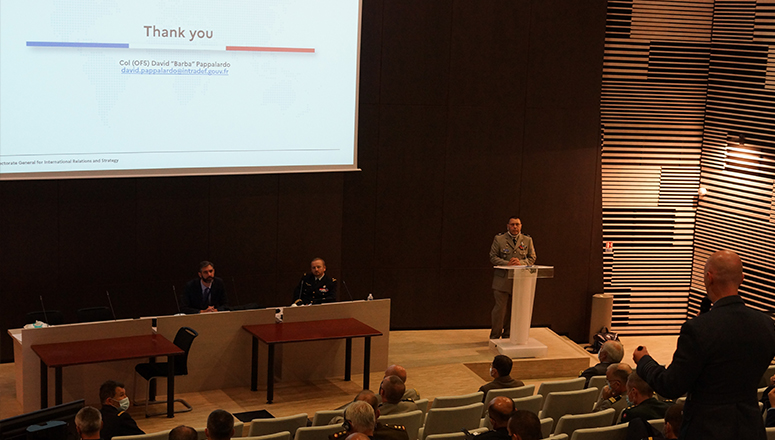 Lieutenant General Luc De Rancourt, the Director General of International Relations and Strategy from the Ministry of Defence welcomed Senior Course members and gave an overview of France's strategic framework.
Mr. Philippe Michel-Kleisbaur, who serves on the Defence and Armed Forces Commission and is a member of the French Delegation to the NATO Parliamentary Assembly, spoke to Course Members on the role of the French Parliament in defence policymaking. Following this, Mr. Mathieu Droin, Vice-Director of the French Strategic Affairs and Cybersecurity detailed the French perspective on the European Union and NATO.
After these discussions, CAPT (N) Philippe Schegg from the French MoD's General Directorate of International Relations and Strategy explained the history of France within NATO and French strategic views. Future threats and opportunities were then discussed with COL David Pappalardo and Dr. Guillaume Lasconjarias, former Senior Researcher at the NDC Research Division, who currently serves in the International Relations and Strategy Directorate of the MoD. The day's lectures concluded with a presentation by COL Richard Ringuet from the NATO Office within the French MoD on French Operations
Course members gained rich and fresh appreciation of this Alliance member's approach to strategy and defence. The Paris leg of FS 1 was comprised of a warm welcome, excellent lectures, a cultural tour and evening reception, all of which made for a most rewarding visit for Senior Course 139.