NDC Policy Brief No.18/21 on 'Future warfare, future skills, future professional military education' and NDC Policy Brief No.19/21 on 'NDC@70: more relevant than ever'
16 Nov. 2021
|
Last updated: 16 Nov. 2021 10:57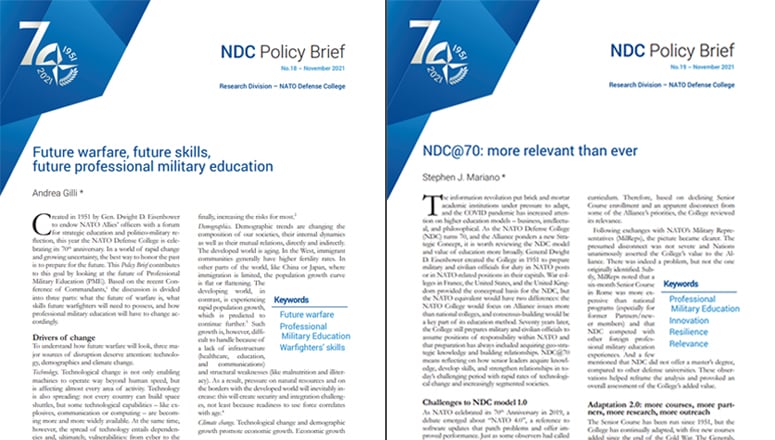 NDC@70: more relevant than ever

The information revolution put brick and mortar academic institutions under pressure to adapt, and the COVID pandemic has increased attention on higher education models – business, intellectual, and philosophical. As the NATO Defense College (NDC) turns 70, and the Alliance ponders a new Strategic Concept, it is worth reviewing the NDC model and value of education more broadly. General Dwight D. Eisenhower created the College in 1951 to prepare military and civilian officials for duty in NATO posts or in NATO-related positions in their capitals. War colleges in France, the United States, and the United Kingdom provided the conceptual basis for the NDC, but the NATO equivalent would have two differences: the NATO College would focus on Alliance issues more than national colleges, and consensus-building would be a key part of its education method. Seventy years later, the College still prepares military and civilian officials to assume positions of responsibility within NATO and that preparation has always included acquiring geo-strategic knowledge and building relationships. NDC@70 means reflecting on how senior leaders acquire knowledge, develop skills, and strengthen relationships in today's challenging period with rapid rates of technological change and increasingly segmented societies.

Download Policy Brief 19/21 to keep reading, and/or Download Policy Brief 18/21 to read it.
---
---