NATO Defense College and Campus Bio-Medico University Hospital of Rome sign Memorandum of Understanding
24 Nov. 2021
|
Last updated: 24 Nov. 2021 17:28
On November 23, 2021, Lieutenant General Olivier Rittimann, Commandant of the NATO Defense College (NDC) and Dr Paolo Sormani, Director General of Campus Bio-Medico University Hospital signed a Memorandum of Understanding (MoU) between the two institutions.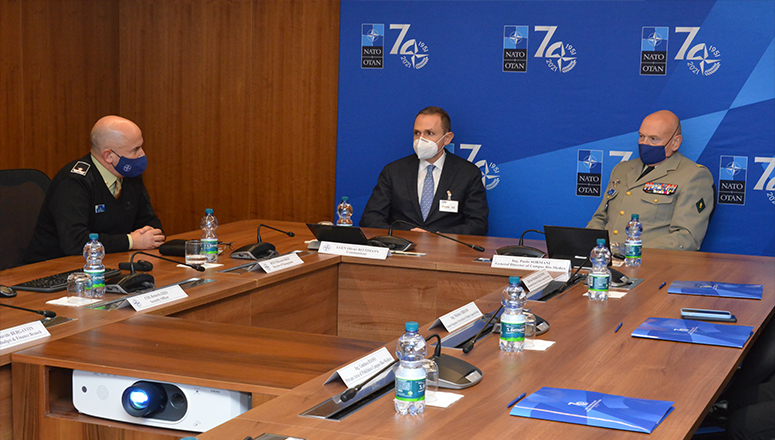 Resulting from an initiative taken by Brigadier General Riccardo Brizi - Director of Management (DoM), the agreement will enable the NDC community – Course Members and Staff - to benefit from the provision of medical and health services provided by the Campus Bio-Medico University hospital, one of the best-known University research and medical treatment centres available in Italy. The delegation led by Dr Sormani was welcomed by Brigadier General Brizi, who accompanied the group in a brief tour of the College facilities.
The mission and history of our institution were illustrated by the Commandant, Lieutenant General Rittimann, who welcomed the delegation on their first official visit to the College, before the signature of the MoU between the two institutions.
The visit was an excellent opportunity for establishing a novel and fruitful cooperation between the two centres of excellence, both located in southern Rome.
Campus Bio-Medico University Hospital, a not-for-profit institution, is an integral part of Campus Bio-Medico University of Rome, a private university with full legal status established in 1993 to implement a cultural project focused on bringing the individual back to the centre of biomedical sciences. The hospital opened in via Emilio Longoni in the Prenestino district in 1994, and moved to the current Trigoria location in 2008. It hosts the UCBM Department of Medicine and Surgery and is characterized by its synergies across the whole range of clinical, teaching and research activities. Attention to the individual situation of each patient, a welcoming environment, and compliance with the highest international quality and safety standards, together with the most advanced hospital equipment, are essential elements of the health care we offer. A distinguishing feature of the hospital is its interdisciplinary and team approach among the health care professionals in each area and across units and services. Within this context, each patient is assigned a specific physician and nurse who oversee their interdisciplinary care and are their direct interlocutors. UCBM Hospital is committed to offering the highest level of care and assistance to its patients every day, thanks to the work of its many professionals carried out with a great sense of responsibility and in the Christian spirit of service, in accordance with the teachings of St. Josemaría Escrivá, founder of Opus Dei. The facility, consisting of over fifty Operating Units, provides health care under the National Health Service and also privately. This includes outpatient, day-hospital and day-surgery services and multidisciplinary wards organized according to the intensity of care required.
It is located at the centre of a modern university campus, situated within the Decima Malafede Natural Reserve, near the Eur area of Rome.
External services include a Health Centre for the Elderly on the campus and a Radiation Oncology Hub in the Prenestino area.