Senior Course 139 goes to Athens, Greece during Field Study 3
16 Dec. 2021
|
Last updated: 16 Dec. 2021 15:10
On Friday 10 December, the NDC's Senior Course and Commandant continued the Field Study to Athens, Greece. Minister Plenipotentiary Stelios Gavriil, the NDC's Senior National Representative for Greece received the delegation upon arrival.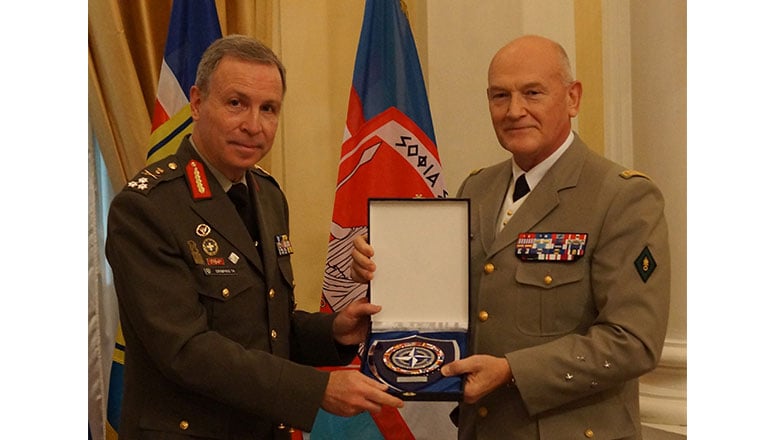 The group was welcomed by the Hellenic National Defence College (HNDC) Commandant, Lieutenant General Themistoklis Grymbiris, who expressed his sincere pleasure in hosting Senior Course 139 in Athens on behalf of the Hellenic General Staff, and briefly illustrated the mission of Greece's national college. Its task is to educate and train Officers of the Armed Forces, the Security Bodies, the Fire Brigade and the Coast Guard, as well as employees of Ministries, Organizations and public or private law companies, in order for them to take National Defence issues into account in their field of responsibilities. Moreover, the College functions as a scientific body for issues connected with Defence Policy and National Strategy.
Ambassador Haris Lalacos, Director General for Political Affairs at the Greek Ministry of Foreign Affairs, delivered a thought-provoking and comprehensive overview of the different dimensions of Greek Foreign Policy. Ambassador Lalacos first highlighted the importance of the transatlantic partnership and the fundamental value that Greece sees in its participation and contribution to an Alliance like NATO, defining his country as a "reliable regional partner and a solid member of western democracies". He also focused on the relevance of bilateral partnerships and cooperating with regional partners which share values with Greece.
Dr Kostantinos Balomenos, Director General of National Defence Policy and International Relations of the Hellenic Ministry of Defence, subsequently took the floor to illustrate Greece's armed forces perspectives on migration issues. Greece is defined as a gateway from the East to the West, thus the Eastern Mediterranean region is bound to represent a hotspot for security challenges. One of Greece's main objectives in this regard is to promote mutual understanding by bilateral and trilateral military exercises in the region. He then continued to explain how irregular migration could also be read as a hybrid threat that could undermine national and international stability.
As final briefer, Rear Admiral Fragkiskos Leloudas, Director of Policy, Strategy and Defence Planning of the Hellenic National Defence General Staff illustrated Greece's defence policy, as well as providing an extensive overview of the National Defence Staff's structure and mission.
On the following day the NDC group had the opportunity to visit the Acropolis and the Archaeological Museum.